2010 – 2011 Bob Lloyd
Introduction
The Rotary International theme for the 2010/11 Year was:
I believe the Rotary Club of Kowloon North contributed significantly towards accomplishing that theme.My year as President started with great anticipation of a fruitful and fulfilling year.  However, the honeymoon lasted only until the first Board Meeting when a Board Member arrived late and somewhat worse for wear having imbibed more than his due.  He challenged, in no uncertain terms, a proposal to donate to a worthy charity in Tanzania as well as a proposal to update the Club's Constitution and Byelaws that had not been updated since 1988 and did not provide for women as members.  We already had 7 Women Members!  When asked to stop being so rude he stormed out of the meeting, confirming his resignation from the Board the following day.  What a great start!!!!Subsequent Board Meetings generated considerable debate which at times became heated.Nonetheless, looking back we achieved a considerable amount during the year.
Projects
Guangxi Vision Screening
Pride of place must go to the Guangxi Vision Screening Visit that was organised by Rotarian Pauline Cho from 24th-30th October 2010.  Funds for this project were supported by a District Simplified Grant of US$1,800.  Rotarian Pauline, Past Presidents Maureen Boost and Ramesh Chugani and President Bob from RCKN flew to Nanning with a party of volunteer optometrists.
627 students and 36 teachers from 5 schools were examined using modern vision screening equipment provided by Rotarian Colman Chan. 115 spectacles were prescribed for 84 students and 31 teachers with 6 cases referred for medical attention. 36 students were identified as having defective colour vision.  A number of the volunteer optometrists returned to the schools in early 2011 to dispense the spectacles to the students and teachers concerned.
In parallel with the vision screening, RCKN Members were driven to Mashan, high up in the mountains above Nanning, to see the damage, caused by severe flooding, that had occurred to the Longgui School in May 2010.  RCKN donated HK$14,000 for renovation of the school building and a further HK$54,000 for repairs to the dormitory accommodation.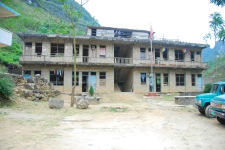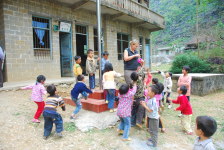 The 4 Rotarians visited the Guiping Hanchong PAL Village after a long and bumpy ride in two 4-wheelers, donating food and clothing to the inhabitants.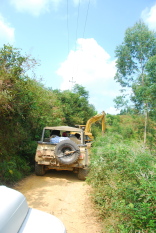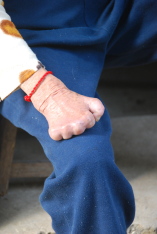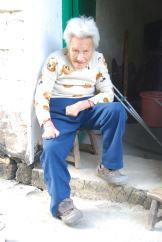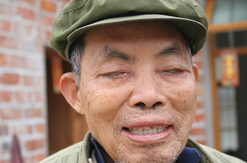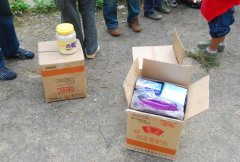 The China Coast Community
RCKN is a long term supporter of the China Coast Community and a lunch was held in honour of the residents at the Hong Kong Club on Saturday, 9th October 2010 at which we celebrated the 100th birthday of one its residents who attended the lunch.  Entertainment was provided by a small group of singers and musicians.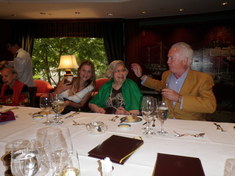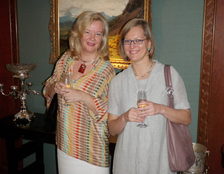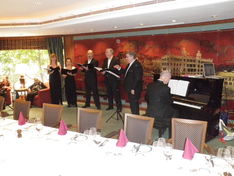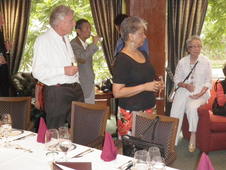 Furthermore, we entertained some CCC residents to Christmas lunch at the Holiday In Golden Mile on Friday, 17th December 2010 with Father Christmas in attendance.  Grateful thanks go to PP Gilbert Collins for his organisation and to all who attended from RCKN for both events.2 RCKN teams of 4 players entered the China Coast Community Charity Golf Day at Shek O Golf and Country Club on Friday, 10th December 2010.  Entry fees were HK$9,000 per team with RCKN funding half the entry fees.  The format was a Texan Scramble where each player tees off and the best placed ball is used for all members' of the team's next shot and so on.  This was a fun day with a magnificent BBQ held afterwards in the Club House.
Six Club Sichuan Victim Rehabilitation Project with Handicap International
This project was started in RCKN's 40th Year with RCKN leading Rotary Clubs of Ama, Macau, Tai Pei North, Mandaluyong and Jurong Park.  A grant of HK$127,000 had been made to the original cost of HK$280,000 from the District 3450 Disaster Relief Fund.  A further HK$80,000 from RCKN has increased funding to HK$268,000 with HK$81,000 from the other Clubs.  This has helped rehabilitate more than a 1,000 earthquake victims and established physiotherapy centres in Sichuan.
Christina Noble Children's Fund – Child Sponsorships
Club members sponsor 60 children's living and educational expenses annually with the CNCF in Mongolia at a cost of HK$180,000 and medical supplies of a further HK$70,000 per annum.  Since this initiative was started the Club has donated more than a HK$1,000,000 to the cause.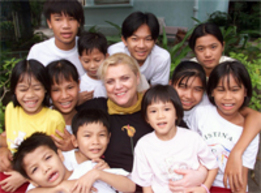 Joint Area 7 Matching Grant Project
The Club donated US$1,000 to the Joint Area 7 Water Safe Project.  This was a Rotary Foundation Matching Grant Project to provide 4 water purifiers to 2 schools in villages in Sichuan Province in China.
Incubator for Children's Home in Haixi Village, Qinghai Province with Christian Action
This donation of HK$29,000 was made to assist Christian Action to care for premature babies.
Tanzania Mufindi Highlands Orphans' Project
The project was for the construction of a new Community Living Home for AIDS orphans in Tanzania.  The Club donated US$10,000 with a further US$8,000 from an anonymous Club donor and a further HK$5,000 for provision of milk formula.
Transportation of a container from Durban to Johannesburg
The Club donated HK$18,000 to pay for the transportation of a container from Durban to Johannesburg where it was converted into a clinic.
The Rotary Foundation
Ever since 2002/03, every Member of the Club has donated US$100 per year to the RTF.  Furthermore, every Member and every new Member when joining the Club has donated US$150 to the RTF to support Polio Eradication.
The Hong Kong Cancer Fund
The Fund's annual "Stride for a Cure" was held in Tai Tam Country Park with a start and finish at the Hong Kong International School on Sunday, 28th November and some 60+ Members and their Families attended.  A celebratory lunch was held in a Stanley tavern to wet appetites. The RCKN is a major contributor to this event with more than HK$200,000 donated to the cause.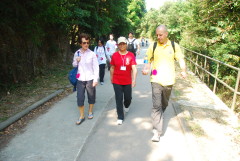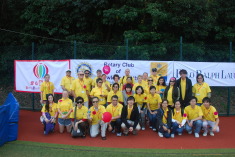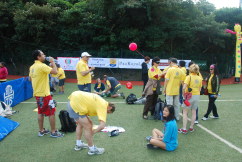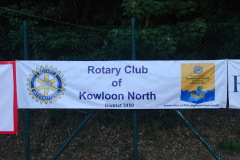 Fellowship
Junk Trip to Sok Kwu Wan
Past President David Wright impressed us with his yacht (or was it Swire's?) to Lamma Island and dinner at the Rainbow Seafood Restaurant on Friday, 5th November 2010.  A grand night was had by all!  Thanks PP David.
An evening Chez Papu
A very enjoyable evening was had by Club Members on 27th November 2010 at Rotarian Papu Butani's magnificent house in Fei Ngo Shan with a sumptuous Indian buffet.  Grateful thanks were extended to Rotarian Papu and his family for their warm welcome and hospitality.
RCKN Christmas Party
The annual RCKN Christmas Party was held in the Gun Room at the Royal Hong Kong Yacht Club on 18th December 2010.  Father Christmas, dressed in green, yes green, made a surprise visit and dispensed bountiful Christmas presents and good cheer.  Grateful thanks were given to PP Ian Petersen for his excellent organisation.
RCKN Golf Day
The annual RCKN Golf Day was held on Friday, 8th April 2011 on the Hong Kong Jockey Club's Kau Sai Chau South Course.  16 participants played in a Double Peoria competition.  We were lucky with the weather.  All standards were catered for!
Hebe Haven Yacht Club BBQ
Following prize giving for the Golf Day in the the Kau Sai Chau Clubhouse, participants re-assembled at the Hebe Haven Yacht Club in Sai Kung where a grand buffet dinner was enjoyed by all.  The pelting rain that had been anticipated during the golf held off until the BBQ!  Fortunately, we were inside!  Ray Gatt generously donated some bottles of Gatt Wine from his Australian vineyard.  Grateful thanks were extended to Ray for the wine and PP Nic Robinson for organising the BBQ at his Club.
Hong Kong Science Park Visit
President Bob, who was a co-opted Member of the Science Park Phase 3 Development Task Force, arranged a visit to the Science Park in the morning of Saturday, 21st May 2011.  10 or so participants were treated royally by HKSTP Chairman Nic Brooke and Chief Executive Tony Tan with a presentation and guided tour of various Park facilities within Phases 1 and 2.  It was an interesting day followed by a lunch in an Italian Restaurant in Phase 2 of the Science Park.  What a pleasant environment in which to work!
Dream Catcher Fund Raising Gala
President Elect Emba Leung organised a wonderful evening at the Hong Kong Football Club on Saturday, 28th May 2011.  Dancing to a great band was enjoyed by all with competition for the best dressed Dream Catcher.  Funds were raised from the sale of tickets, each Member obliged to purchase 4 tickets, from the prize raffle and for the first time at a RCKN Fund Raising Ball from a Silent Auction.  Students from the HK Polytechnic University Rotaractors Club, the City University and other volunteers assisted PE Emba on the night.  Well done and thanks PE Emba!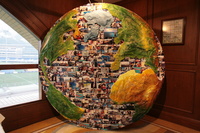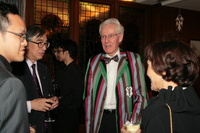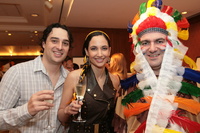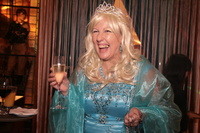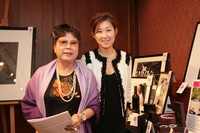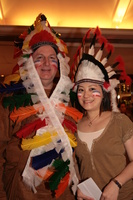 Administration
Paul Harris Fellowships
On behalf of Rotary International, President Bob was delighted to present Paul Harris Fellowship certificates and pins to Rotarian Peter Daswani and President Bob Lloyd as well as a Multiple Paul Harris Fellowship certificate and pin to Past President Ian Petersen.
Club Constitution and Bye-laws
At the first District President's Meeting questions were raised as to the status of each Club.  Not knowing the answer, our more senior Members were requested to clarify the issue.  The Club is a Registered Charity under the Society's Ordinance with its own Constitution and Bye-laws.  Does any one have a copy of these documents?  At last copies were found dating back to 1988.  Despite the current Membership having 7 women as Members, it was suprising to note that the Constitution allowed only male Members.  President Elect Emba kindly took up the job of updating the documents based on a template from the Rotary International website.
Societies Ordinance Procedures
There was a need to update the names of the Officer Bearers of the Club by writing to the Commissioner of the Hong Kong Police.  This also involved informing the Police of our new registered address.  As a lawyer, President Elect Emba kindly took on this task.
Financial Guidelines
Based on a comment here and there from long standing Members, we identified a need to introduce Financial Guidelines so that everyone, Members and potential donors alike, were aware of the way donations to the Club were spent.  Whilst this caused a lot of anguish in certain corners of the Club, it is pleasing to note that the Financial Guidelines, although initiated in 2010/11, were finalised and promulgated during President Emba's year of office, 2011/12. Many Club Members contributed to the document.
Club Officers for the 2010/11 Rotary Year
President: Bob Lloyd
Vice President: Istvan Horvath
Immediate Past President: Tibor Huber
President Elect: Emba Leung
Treasurer: Ian Petersen
Secretary: Maureen Boost
Sergeant-at-Arms: Nic Robinson
Community Service Director: Angela Wong
Fellowship Director: David Lindsay
Fellowship: Bruce Stinson
International Service Director: Pauline Cho
Membership Director: Gary Harilela
Public Relations: Bob Lloyd
Rotary Foundation Director: Ramesh Chugani
Sampan: Emba Leung
Vocational Service Director: David Wright
New Members
Nadja Alexander on 27th August 2010
Gordon Chin on 1st April 2011
Members Resigning
Sham Hemandas
Raju Daswani
Member Transferring
John Chapman to the RC of the Pantiles, UK on 31st December 2010
Meetings
Weekly Lunch and/or Club Assemblies were held every week on Friday's other than Public Holidays with average attendance of approx 45%
District Governor Jason Chan visited us on Friday 26th November 2010.  His presentation was informative and enjoyed by all.
Board meetings were held at 6-weekly intervals throughout the year.
Thanks
President Bob would like to thank all Members for their unfailing support throughout the year.
Bob Lloyd
President 2010/11