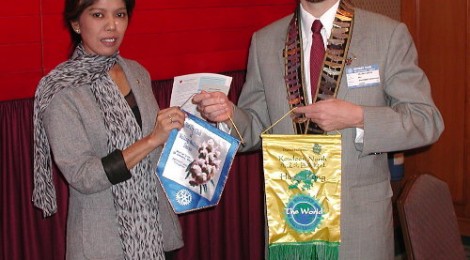 Volume 01 Issue 12
Dear Fellow Rotarians,
Greetings again from your President. The level of Rotary activity is certainly increasing as we approach the end of the Rotary Year. As announced in recent emails, there are multiple opportunities for service and fellowship coming up in the next few weeks.
1) Past Presidents' Dinner – May 18th
2) Visit to the Rotary Club of Ama – May 19-21
3) Day trip to the Guangzhou Orphanage – May 23rd
4) Guangxi Province visit for the New School Project – May 25-27
5) Annual Ball of the Rotary Club of Macau – June 2nd
6) Our own Rock 'n Roll Evening on June 9th.
Please consider participating in any or all of these events.
During the Week
You may remember that a few weeks ago we were visited by President Giovanna of the Rotary Club of Waling-Waling Davao. Well, I received a very nice email from her this week, wherein she sends her greetings and expresses interest in furthering ties between our two clubs. Her club has the distinction of being the first all-women club in District 3860. I told her that I would be sure to tell any of our members who travel to that part of the Philippines to make a special effort to attend one of their meetings, and that any of her members are always welcome at Kowloon North.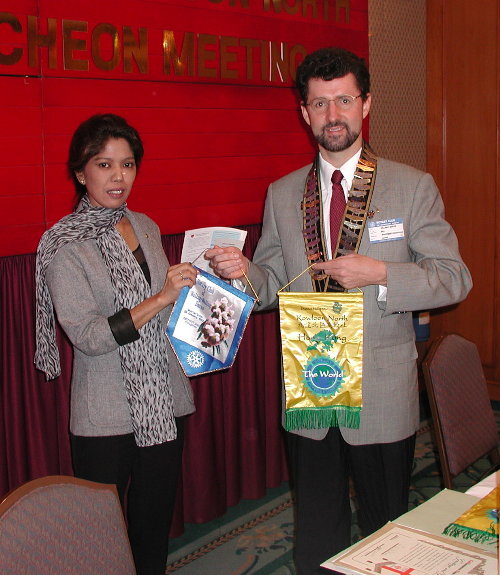 President Giovanna of the Rotary Club of Waling-Waling Davao
Rotary Information
For those who have not had a look, please see the online summary of the Rotary Council on Legislation byclicking here. The voting results are summarized by item, and it is actually quite interesting. There is even a spirited online discussion of the results.
Last Meeting
We had several visitors last week, including the Vice President of the Rotary Club of Bombay, Rtn. Arun Sanghi. The Rotary Club of Bombay is the largest in Asia with more than 330 members.
There are few greater pleasures for a Club President than that of inducting a new member. That pleasure was mine last meeting as I welcomed Rtn. Nicole to Rotary and to our Club. We are sure that she will make a fine Rotarian.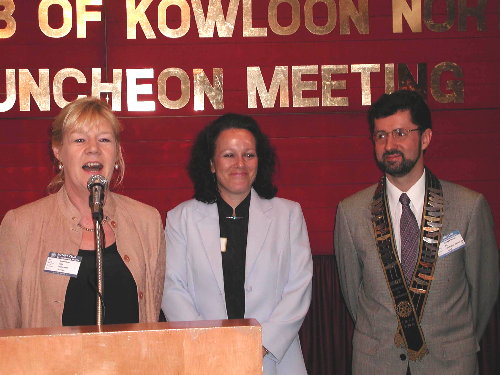 Rtn. Susan introducing Ms. Burt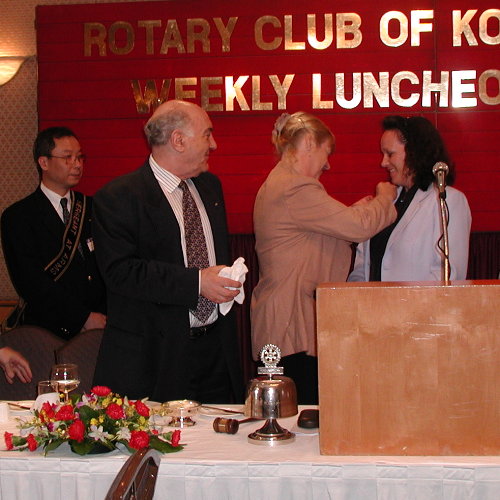 A brand new Rotarian in the making
Last Friday's Speaker
We were treated to a very learned presentation on the profession of Quantity Surveyor by our own Rtn. Chris Richardson. He told us of the historical role that this position has played, and how that role has changed and evolved over the years.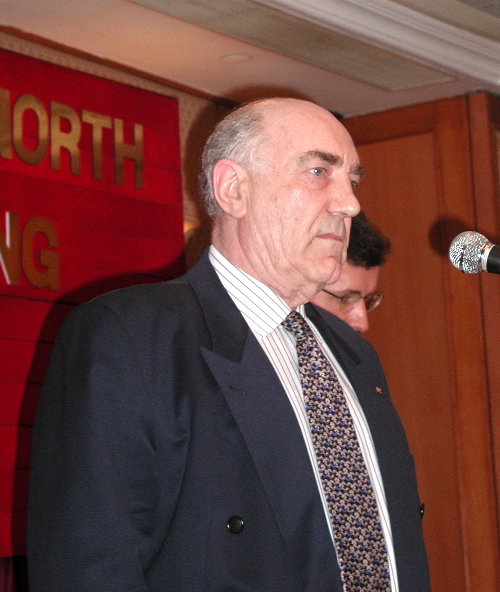 Rotarian Chris stares down an impertinent audience member
Rtn. Chris also gave us an overview of the construction industry in Hong Kong and the problems faced by contractors and employers. We thank Chris for his most informative talk.
This Friday's Speaker
By popular demand, we will delving into the world of "Copyright Law" again under the tutelage of our own Past President Gilbert. This subject elicited so many questions two weeks ago that we felt it would be good to have another meeting devoted to the topic. Get your most perplexing questions ready and we'll see if we can stump the master.
I look forward to seeing you all there.
Yours in Rotary,
President Bill