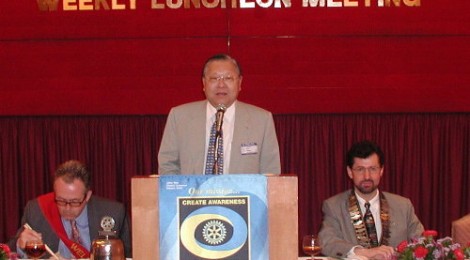 Volume 01 Issue 14
Dear Fellow Rotarians,
"Of all sad words of tongue or pen, the saddest are these…it might have been"
I can now count the remaining number of regular club meetings of my presidency on one hand. The Rotary year may be nearly over, but there are still some very important Club events remaining. Bearing the above quotation in mind, I urge all of you to participate to the utmost in all Club activities.
Club Service:
There is now just one week to go before our Club's Rock 'n Roll Fund Raising Evening At tomorrow's meeting we will be holding a draw to allocate tables and also an auction for the best positioned tables. All proceeds of this auction will of course go towards the funds raised on the evening. We are really counting on this evening to replenish our club's coffers after cervical sizable donations this year. Please remember the good work we have done this year, and be prepared to contribute generously.
Last Meeting:
Last meeting we had a relatively full program, with reports being presented by PP Steve on the sister club visit to Japan, and by Rotarian Nicole on the Guangzhou Trip.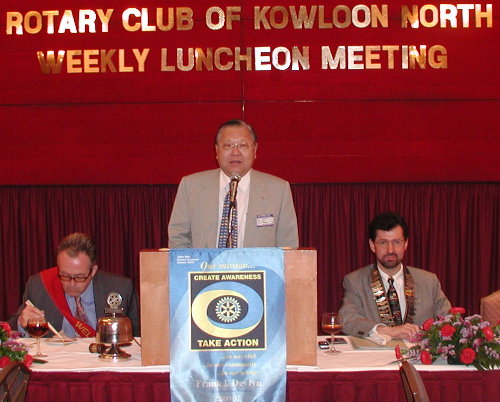 PP Steve makes his report
International Service:
You will remember that Community Service Director Brian and I, had to leave the meeting early last week in order to make it to Macau in time for our flight to Nanning.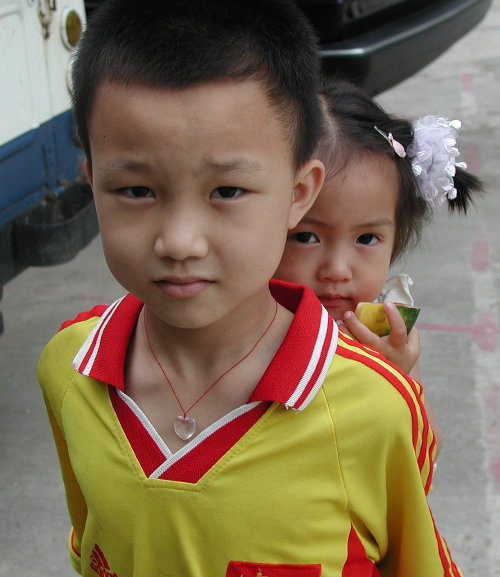 This young gentleman was carrying around his sister
Brian and I, along with a group of dedicated and hardworking Rotarians from the Rotary Club of Macau, had a very successful visit. I managed to take several good photos, and Rtn. Brian has kindly prepared a written report of our visit.
Last Friday's Speaker:
Last Friday we enjoyed an informative presentation by physiotherapists Victor Fung and Donald Lui. The explained how the modern workplace environment, and particularly the regular use of a computer, can lead to back and neck problems. They taught us a few simple and effective exercises which can alleviate many of these problems. I for one have spent the last week doing these exercises on a regular basis, and it seems to help.
This Friday's Speaker:
This week our speaker will be Ms. Emily Chan from the Retinitis Pigmentosa Society and the title of her talk is "Life is Beautiful". Her topic is especially appropriate for a Rotary meeting this year, because one of the key themes of RI President Frank Devlyn is Avoidable Blindness. President Frank is encouraging all Rotary Clubs to Create Awareness and Take Action about this problem.
Also coincidentally, the Retinitis Pigmentosa Society of Hong Kong is having their web site redesigned by a group of students who are participating in a Rotary sponsored web site design competition. This site has not been made available to the public yet, but the lucky readers of The Sampan may view this site at the following secret address.
( TECHNICAL NOTE: All internet addresses are actually numbers, or IP ( Internet Protocol ) addresses. The domain name system is just a big list which associates a name ( e.g. www.rotary3450.org ) with a particular IP number. You can type in the number and go directly to the site if you want, The "name" system is there only to make things easier to remember.
We are also expecting some visually impaired friends of the Retinitis Pigmentosa Society to join us as guests at tomorrow's meeting.
I look forward to seeing you all there.
Yours in Rotary,
President Bill