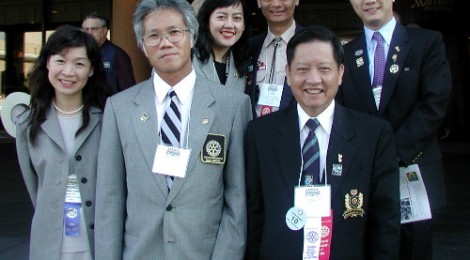 Volume 01 Issue 18
Dear Fellow Rotarians,
This Friday's meeting will be our club's last regular meeting of the Rotary year. As such, it will also be our handover meeting, wherein the club presidency officially passes to PE Ramesh. I ask all of you who are able, to attend this important meeting.
The RI Convention:
As I write this I am on the long flight back from San Antonio where I attended the 92nd Annual RI Convention along with a delegation of 35 Rotarians from our district.
Some of the District 3450 delegation
This was my first RI Convention, but it will not be my last. In the working groups and seminars I had my first opportunity to see Rotary at work at its highest levels, and I must say that I was greatly impressed.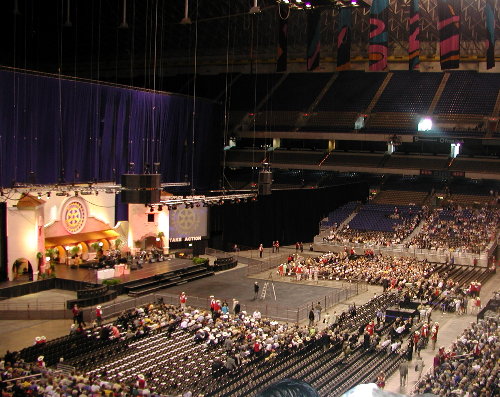 The main convention hall
We are all familiar with the good work that Rotary does locally through the projects which individual clubs or districts carry out. These projects are meaningful and praiseworthy, and often have substantial impact, but the projects and initiatives that Rotary carries out at the international level are truly awe-inspiring. It seems that there is no task too daunting for Rotary to undertake when it sets its mind to it. ( Global eradication of Polio is an example of this ) I was again and again impressed by the high caliber of the individuals who were leading these projects. It truly made me proud to be a Rotarian.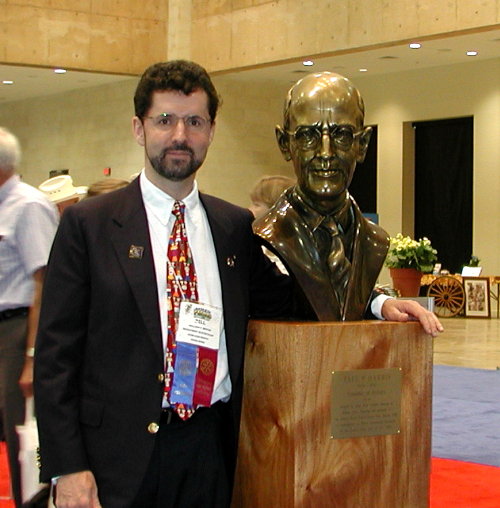 Me and my friend Paul
Community Service:
Last Saturday, Camp Quality organized a day trip for 50 children to visit the Museum of Coastal Defense. Please click here to read two reports on this outing. One is by PE Ramesh, and the other is by Ms. Chloe Davies, daughter of Rtn. Howard, who has been working at Camp Quality as a volunteer for the past two weeks.
The founding of Camp Quality is without doubt our club's greatest contribution in the area of community service. Under the capable leadership of Ms. Susan Wong, Camp Quality has grown to become a thriving organization of over 250 active volunteers, who now look after the majority of children in Hong Kong who are under treatment for cancer.
Like Rotary, Camp Quality has a positive impact not only on the individuals who are served by its programs, but also on the volunteers themselves, who are made better people by being given the opportunity to serve.
Last Friday's Speaker:
Last Friday Professor Michael de Golyer gave us a lucid summary of the findings of the "The Hong Kong Transition Project". Through a series of graphs and charts Professor de Golyer plotted the changing attitudes of the Hong Kong public towards a variety of political issues.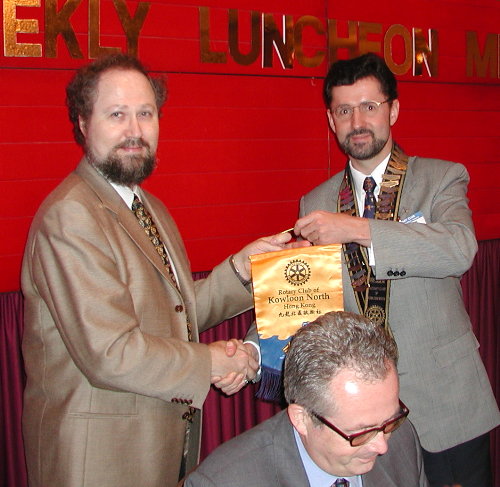 Professor Michael de Golyer
We thank Dr. de Golyer for sharing his insights with us.
This Friday's Speaker:
Today's speaker is Mr. Bob Pope, Director of Building and Lands, Hong Kong SAR, and a Rotarian with the Rotary Club of Kowloon. Rtn. Bob is an excellent speaker, and it is fitting that we should close this Rotary year with our most distinguished guest speaker.
I look forward to seeing you all there.
Yours in Rotary,
President Bill