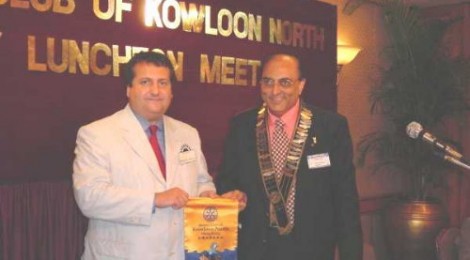 Volume 02 Issue 05
Dear Fellow Rotarians,
Well, it threatened to be another quiet Rotarian lunch this week (only 11 members), but with the return of birthday boys PP Robert and Rtn. Michael, it was a lively – if not well-attended – luncheon. President Ramesh congratulated both of them on their birthdays and in return, they earnestly requested – nay, begged – that we not serenade them with a R.C.K.N. version of Happy Birthday! (I told you we needed singing lessons.) A word of warning here … wear your sunglasses next week – the brilliant hues of Rtn. Michael's and the swirling patterns of PP Robert's ties, made my eyes spin.
Also joining us at our lunch last week, were PP CK Tsang from the R.C. of Kowloon Golden Mile, Rtn. Papu's No.1 son Manoj and, of course, our guest speaker, Mr Andrew Lynch.
Finally, several members have requested that one Friday lunchtime meeting a month, be replaced with a Thursday evening fellowship meeting. The Board are considering this and President Ramesh would welcome any input from members.
Yours in Rotary,
Rtn. Nicole
---
A VERY BIG MEETING INDEED
As you all no doubt know, tomorrow will be the biggest and most important meeting that this club has held in some time. We will have no less that 22 persons ( Rotarians and Spouses ) visiting from our Sister Club in the Philippines. They are taking an early morning flight which ARRIVES in Hong Kong at 8:35 am so that they will be here in time for our meeting. President Ramesh asks all of you who are in town to be sure to attend this meeting to greet our long-lost sister club members.
LAST FRIDAY'S SPPEAKER
Last Week's Speaker (Friday 27th July) was Mr Andrew Lynch, the Editor of the Hong Kong iMail. Andrew joined iMail in January 2000 after seven years at the South China Morning Post and previous experience in London as night editor of the Sunday Telegraph, and sub-editor of The Guardian and The Financial Times. His talk, which was entitled "Do We Get The Newspapers We Deserve?", was peppered with words of wisdom, such as "the editor's indecision is always final", and behind-the-scenes anecdotes from his time at SCMP and iMail – very illuminating. Interestingly, in answer to a question from PP Peter Lo, Andrew advised us to treat anything we read in the newspapers with a sensible dose of scepticism. You have been warned – and No, he was not referring to The Sampan!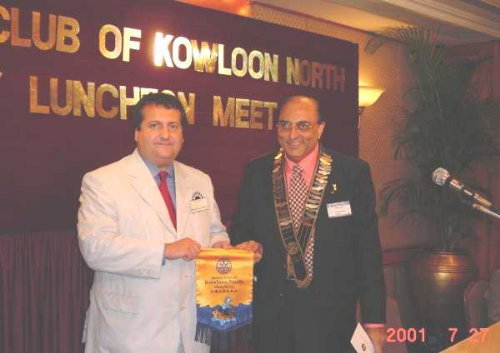 Mr Andrew Lynch
THIS WEEK'S SPEAKER
(Friday 3rd August) we have Chief Superintendent Mr Kenny Ip Lau-chen from the Narcotics Bureau, who will be talking about "The Abuse of Drugs by Young Persons".
---
SPEAKERS IN AUGUST
Friday 10th August: TBA
Friday 17th August: Mr David Robinson, Editor of Fragrant Harbour
Friday 24th August: Mr Richard Willis, Pand O Travel : "Do we need a Second Passenger Terminal?"
Friday 31st August: TBA
---
BIRTHDAYS THIS WEEK
3rd August: We have a lot of birthdays to celebrate this month, starting with our Community Service Member, Brian Wong. Brian shares his birthday with crooner Tony Bennett (who could sing Happy Birthday a lot better than we can!) and Martin Sheen (aka President Bartlett of "The West Wing")
On this day in history ….
1492 – Christopher Columbus left Spain with three ships. The voyage would lead him to what is now known as the Americas.
1914 – Germany declared war on France. The next day World War I began when Britain declared war on Germany.
1958 – The Nautilus became the first vessel to cross the North Pole underwater.
1963 – The Beatles made their final appearance at the Cavern Club in Liverpool. They had performed nearly 300 shows at the club since 1961.
1985 – Mail service returned to a nudist colony in Paradise Lake, Florida. Residents promised that they'd wear clothes or stay out of sight when the mailperson came to deliver!
Also celebrating this month, will be Rotarians Papu Butani, Christopher Wong, M S Kalra, Sham Hemandas, Chris Richards and Gary Harilela. More about their birthdays in the coming weeks.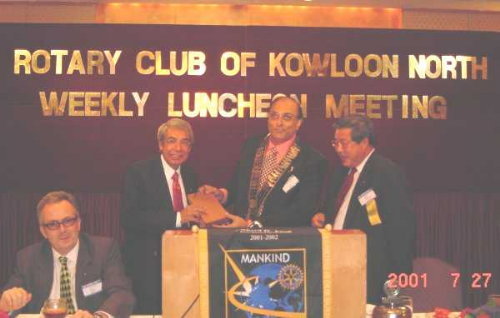 President Ramesh and the Birthday Boys
---
DISTRICT NEWS
Letters from a Rotarian
The articles and letters which IPDG John Wan wrote in the two years ending 30 June 2001 have been put into a book which will be distributed to the Presidents. However, he has been asked by several Rotarians where they can buy the book and has therefore decided to try and raise some money for The Rotary Foundation. So, if you want additional copies, please send him an order with a mailing address and make out a cheque payable to: Rotary Club of Kingspark Hong Kong Community Service Fund.
IPDG John suggests you pay, say, HK$100 per copy, for which you will get a tax-deductible receipt. All proceeds will go to The Rotary Foundation. The Rotary Club of Kingspark and IPDG John will cover the cost of postage and delivery charges for orders from Hong Kong and Macau.
---
DATES FOR YOUR DIARY
Most of you will have seen some of these dates in previous editions of The Sampan, but I shall be repeating them for anyone who has missed previous weeks' copies.
Friday 3rd – Monday 6th August: The Rotary Club of Mandaluyong, our sister club from the Philippines, are visiting us this weekend and will be arriving in Hong Kong at 08.35 on 3rd August on PR302. President Ramesh will be meeting them at the airport and if anyone would like to accompany him, please let him know.
Saturday 4th August: 5 members of our club will be attending the Membership Development Seminar to be held from 2:00 pm – 6:00 pm at The Hong Kong Academy of Medicine Jockey Club Building, 99 Wong Chum Hang Road, Aberdeen, Hong Kong – President Ramesh, IPP Bill, PP Peter Lo, PE David and Rtn. Susie. The Seminar is in connection with an ambitious worldwide Rotary membership campaign called "Rotary's Global Quest". If you are able to attend, please let President Ramesh know.
Saturday 4th August: PP Gary has organised a Fellowship evening in honour of our sister club,
The Rotary Club of Mandaluyong, at The Viceroy of India restaurant in the Sun Hung Kai Centre, 30 Harbour Road, Wanchai. The evening will start at 7.30 pm for fellowship, followed by dinner and the cost of dinner will be covered by the Club. Please advise PP Gary if you will be attending and whether you will be bringing a guest.
Friday 10th – Sunday 12th August: The Camp Quality Summer Camp will be held over the weekend of 10th – 12th August, at Guangdong International Sports Youth Hostel. If anyone is free to help out and/or would like further details, please contact "First Lady" Regina Chugani at 94640030.
Friday 16th November: DG Johnson Chu will be joining our Friday luncheon meeting.
---
This Week's Speaker
(Friday 3rd August) we have Chief Superintendent Mr Kenny Ip Lau-chen from the Narcotics Bureau, who will be talking about "The Abuse of Drugs by Young Persons". This should be an important presentation which you will not want to miss.