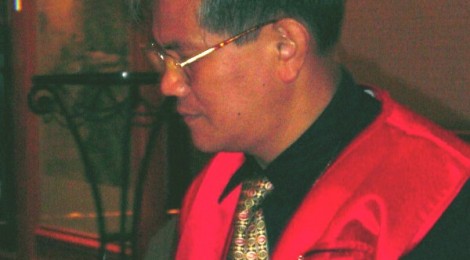 Volume 02 Issue 15
Dear Fellow Rotarians,
I was sorely disappointed this week to see that only a little more than half of our club members attended the Club Assembly! I was hoping to at least get the chance to say "Hello" to some of those members that I have not yet had the opportunity of meeting since my induction – which, by the way, was in mid-May!
President Ramesh opened the meeting by welcoming back PP MS Kalra, PDG Joseph, Rtn Susie and Sgt at Arms Frank. We also welcomed to the club this week, visiting Rotarians PP Fidel Dimot of the RC of La Trinidad which is in District 3790 (Philippines) and District Secretary PP Jones Wong from RC of Mid-Levels.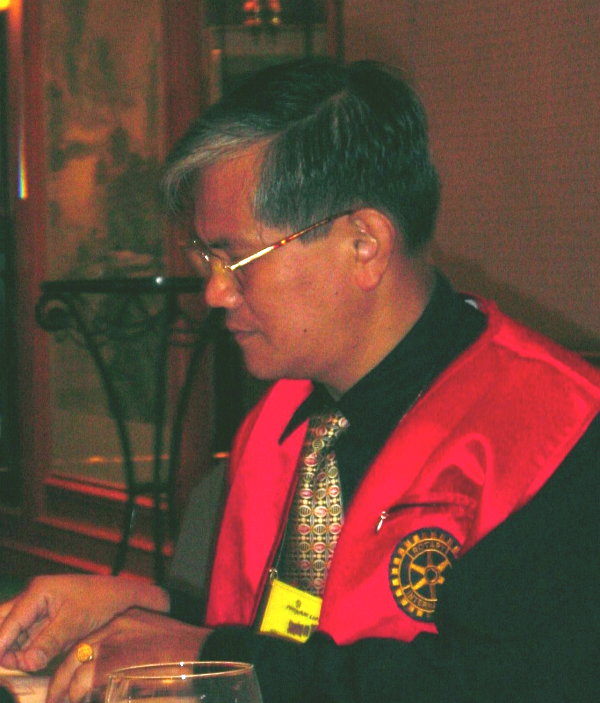 PP Fidel Dimot from RC of La Trinidad
Whilst his was not an official visit, District Secretary Jones was invited by President Ramesh to address the club and inform us of the Citation programmes available through Rotary. Rotary gives us the opportunity to receive as well as to give and there are many different awards available for both Clubs and individuals. One particular award, the Award for Meritorious Service, has already been presented to our own PDG Joseph, bringing kudos to our Club as well as to him. DS Jones also appealed to us to help our President achieve an award during his year of Presidency. Again, this would be kudos to our Club as well as to our President. (See Rotary News for more information on some of the awards which are available.)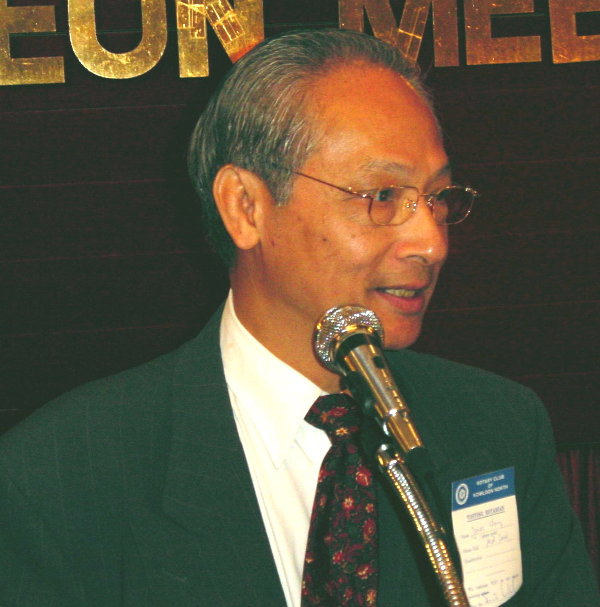 District Secretary Jones Wong from RC of Mid-Levels
Sgt at Arms Frank reported that donations to "The Box" this week, totalled HK$620 – plus a mysterious S$10.
Whilst three of our members celebrated their birthdays last week, only PP Peter was on hand to receive our best wishes and a gift – perhaps the other two were afraid of our attempts to serenade them?
Till next week …
Yours in Rotary,
Nicole Burt
---
CLUB ASSEMBLY
Club Directors made their reports to members at the Club Assembly last week.
VP Nic – Club Service
As the Board member responsible for inviting guest speakers to our weekly luncheon meetings, VP Nic felt that so far this year, we have had a number of interesting speakers, However, this is a function which works best with input from all members and he therefore appealed to each of us to let him know of anyone we know, who would be an interesting – and willing – speaker during his year of responsibility.
VP Nic – Treasurer's Report for the Rotary Year 2000 – 2001
The Club's finances are in very good shape and we have been able to support many good causes. VP Nic gave due credit and thanks to IPP Bill, whose generous donations have enabled the Club to achieve this. We received HK$1,048,595.50 during the year under report, of which HK$810,393.55 had been spent on various works. As at 30th June, our bank balance stood at HK$328,462.45 with a further HK$157,369.87 on deposit (renewed each quarter). Additionally, we have an HSBC Savings Account of HK$18,774.11 plus a small amount of interest. We are considering closing this account and transferring the amount to our main Checking Account.
Sgt at Arms Frank – Sergeant at Arms report
Sgt at Arms Frank reported that fines were down this year. Whilst recognising that members have a lot of demands on their time with their jobs etc., he requested improved punctuality in order that our meetings may start on time and not run over.
Rtn Howard – Community Service
Rtn Howard first reported on the China Baby Food Project which has almost reached the limit of last year's funding. The RC of Fox Lake are interested in continuing this project and are requesting a further matching grant. This is unlikely to be successful since RI seldom approve duplicate matching grants in successive years. However, the Board of our club feels that rather than move on, we should stay with worthwhile projects and they have therefore decided to contribute a further US$3,500.
The Deaf Society have also approached us for sponsorship for a board game they have developed for schools, which is designed to help teach children with normal hearing to better understand those with impaired hearing. Since Rtn Howard's wife is a primary school teacher, she had looked over the proposed board game and the Board subsequently made a number of suggestions for improvements, which have been accepted favourably. Our Club will donate HK$35,000 to this project and the board game will incorporate the RC of Kowloon North logo.
Rtn Brian – International Service
Brian reported that one of our current major projects involves the expansion of a junior secondary school (classes equivalent to Form 1 to Form 3 or Grade 7 to Grade 9) located at Du'an County, Guanxi Province – the same county where three primary schools sponsored by our club were built. This is a joint-project with Rotary Club of Macau who is responsible for the administrative matter whilst our club is funding it. The project is to build a dormitory and classrooms, total cost of which are estimated at RMB1.9 million. Our Club will sponsor the building of the dormitory. However, in order to ensure the donation will be spent properly, we requested Guanxi officials to publish tender for building the dormitory. The quotations have been received and amounted to approximately RMB1.2 million. We are going to assign a Project Manager (through the help of Club Secretary Chris Richardson) to oversee the whole project, including evaluating the costs of building material as well as ensuring that the progress, material used and construction etc are in compliance with the plan and budget.
In addition to the above project, our Club has recently committed US$4,000 in support of the matching grant application of Rotary Club of Tokyo Jingu and Tokyo Hachioji East, (District 2750) to provide an ultrasound scanner to Ulaanbaatar Mother and Children Hospital in Mongolia. The project was initialised by the two clubs in Japan, but due to inflation the funds raised were not sufficient to meet the quotation. As the two clubs have pledged their maximum, District 2750 requested urgently for matching possibilities for the shortfall of US$4,000 from our District 3450 (since Mongolia is in this district). Our Club responded that we would support the project so that this Matching Grant Project will proceed and be approved in due course.
PP Peter Lo – Membership
Membership development is a primary challenge for this Rotary year and PP Peter suggested that we should look at those classifications which have not yet been filled and seek new members in those classifications. He asked each member to think of just one person and bring them as a guest to either a luncheon meeting of fellowship evening. If each of us could do this, we would have no problem meeting RI's challenge to increase club membership.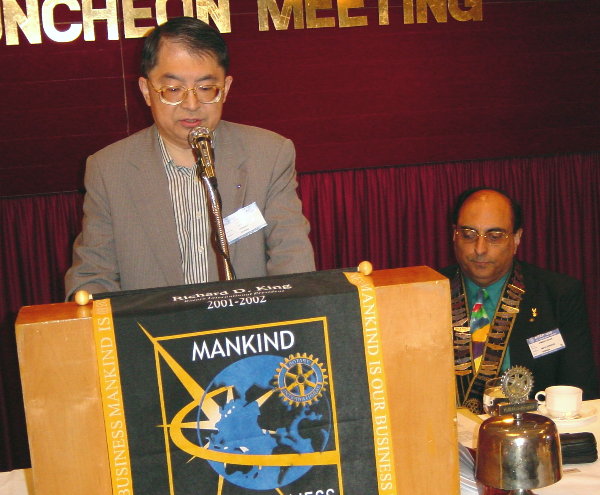 PP Peter reports on Membership
IPP Bill – Rotary Foundation
IPP Bill reminded members of the US$100 contribution initiative, to which our Club has been the first in the District to pledge to. He explained why he felt that it was very worthwhile donating to the Rotary Foundation. Total contributions during the 1999/2000 Rotary year were US$73.7 million. With investment income, the total amounted to US$118.4 million. Of this, US$114 million was spent on matching grants and other programs, e.g. educational programs, scholarship awards, PolioPlus etc. Administration expenses took US$13.9 million. Whilst this sounds like a lot, it only represents 12% of the money taken in, as opposed to other charities which generally spend 30% – 40% on administration costs. If one takes into consideration the time donated by Rotarians, this would probably double the income, making Rotary Foundation very good value for money if you are looking for a charity to support.
PP Gary – Attendance
PP Gary reported that although July, at 39% attendance, and August, at 47% attendance, had been typically bad months, the figures had improved in September with 66% attendance. However, many members fall below the required 60% attendance. We need to achieve a higher percentage in the District and he urged members to do make up meetings – which should be very easy to achieve in HK with so many clubs. He then showed us examples of how he intends to encourage attendance amongst missing members.
---
GUEST SPEAKERS
This Week's Speaker (12th October): Mr Klaus Heyman will be discussing "Music and the Internet"
Friday 19th October: Mr Dominic Brittain – "Hong Kong ADVENTURESHIP"
Friday 26th October: Mr Les Whittle, Holt International – "China Baby Food Project"
Friday 2nd November: Mr D Turbileg, Consulate of Mongolia in Hong Kong – "Mongolia"
---
NEWS – NEWS – NEWS
ROTARY NEWS
Rotary Award for World Understanding (awarded to non-Rotarians or organisations)
Since 1981, RI has honored individuals and groups with the Rotary Award for World Understanding. Its purpose is to honor non-Rotarians whose life or work demonstrates the Rotary ideal of service, especially in the promotion of international understanding, goodwill and peace. Recipients have included Pope John Paul II, U.S. Past President Jimmy Carter, former UN General Secretary Javier Perez de Cuellar, and Vaclav Havel, then president of Czechoslovakia. Since 1993, the award has carried with it a $100,000 grant from The Rotary Foundation for a charitable project or projects that are in harmony with the foundation's mission of world understanding. All Rotarians are invited to nominate any individual or organisation whom they feel qualifies for this award.
Rotary Awards to Rotarians
Rotary clubs are recognized by Rotary International for success in carrying out projects of service within their community and internationally. One such award is the Significant Achievement Award which recognizes outstanding service projects that personally involve club members and can be emulated by other Rotary clubs. One club per district may be recognized each year.
A second method of recognizing club achievements is the Presidential Citation. The International President establishes criteria for the awarding of the citation, based on a specified number of achievements within each of the four "Avenues" of Rotary service.
Individual Rotarians are honored in several ways for the work they do as service-minded volunteers. Some clubs recognize their own outstanding members with a "Rotarian of the Year" designation or by enrolling them as Paul Harris Fellows of The Rotary Foundation. Internationally, the Service Above Self Award recognizes club members who, through their work, embody the Rotary International motto. No more than 150 of these international awards are given each year. Two very special awards occasionally are presented by the Trustees of The Rotary Foundation to Rotarians who render outstanding service to the foundation. The Citation for Meritorious Service may be presented to one Rotarian from each district each year. Two years after receiving the Citation for Meritorious Service, a Rotarian becomes eligible for the Distinguished Service Award.
CLUB NEWS
President Ramesh has announced that, since he is sure he would have the agreement of most, if not all, of our members, he intends to nominate IPP Bill for the Four Avenues of Service Award. He has asked Club Secretary Chris to download this form from the RI Website and complete it on our behalves. He has also approached IPP Bill in this regard since, as advised by District Secretary Jones Wong at the meeting, the Rotarian to be nominated should be aware and willing to accept this award. I am sure you will all agree that IPP Bill is most deserving of this honour.
There will be more information on Rotary Awards which our Club may aspire to in next week's edition of The Sampan.
FELLOWSHIP NEWS
There will be a club fellowship evening this Friday evening (12th October), with IPP Bill organising a repeat of last February's successful visit to the Cococabana restaurant on Lamma Island. As before, he has arranged for a junk to make a pick-up stop at Queen's Pier at 6:30 pm and at the Kowloon Public Pier at 6:45 pm. PLEASE DON'T MISS THE BOAT!! We should be back in Hong Kong by 11:00pm whereupon the night owls amongst us may proceed onwards for further revelries. This is a great event to invite spouses, friends and potential members to. If you have not already booked up for this evening, please get in touch with IPP Bill immediately and let him know where you will be boarding – so that we don't leave you behind. And don't forget, if PP Gilbert is along, the return journey is bound to be a good opportunity to improve your singing skills.
THE YANTU PROJECT UPDATE
The 2001 Ward Evans Cross Atlantic Rowing Race started on Sunday 7th October 2001, with 36 pairs of amateur rowers from 15 countries optimistically setting off from the small port of Los Gigantes, Tenerife Canary Islands. They should finish in about 60 days in Port St. Charles in Barbados, the Caribbean.
It is called the world's toughest (and largest) rowing race involving 2 people rowing an 800 kg boat 3,000 miles across the Atlantic without receiving any outside assistance. Rowers have to make the crossing unsupported, i.e. if they receive any physical items (water, food, first aid kit, a tow etc.) from another vessel whilst racing, they will be disqualified from the race. This is only the second time the race has been organised – the first took place in 1997 – and it is organised by Challenge Business Ltd, a company based in Plymouth and founded by Sir Chay Blyth, who rowed across the Atlantic in 1966. For the 2001 race there will be 50 boats and 100 rowers at the start. Assuming a similar success rate to the 1997 race, the 2001 race will double the number of people to have rowed across the Atlantic will double.
Christian Havrehed and Sun Haibin, whom our Club have sponsored, will be racing boat number 18 called "Yantu". If successful, both of them will be the first person from their respective countries to row across the Atlantic.
As previously reported, we will keep you updated every week from now until the end of the race. In addition, for those of you who are interested, Hong Kong radio station RTHK3 plans to report on Christian and Sun Haibin each Saturday at around 12:10 pm Hong Kong time.
On behalf of our Club, VP Nic has conveyed our very best wishes to Christian, Sun Haibin and "Yantu". We hope all three of them enjoy this marvellous opportunity to show us their courage, determination and skill to overcome difficult odds to arrive in good shape, safely, in good spirits and in good time.
---
ON THIS DAY IN HISTORY ….
Sunday 7th October
1849 – Edgar Allen Poe died at the age of 40.
1931 – Desmond Tutu, South African Archbishop and outspoken campaigner against apartheid, was born.
1982 – The musical "Cats" opened at the Wintergarden Theatre. In 1997 the show became the longest running show in Broadway history.
Monday 8th October
1871 – The Great Fire of Chicago broke out. At least 300 people were killed and 90,000 were left homeless.
1971 – "Imagine" was recorded by John Lennon.
1998 – Taliban forces attacked Iranian border posts. Iran says that three border posts were destroyed before the Taliban forces were forced to retreat. The Taliban of Afghanistan denies the event occurred.
Tuesday 9th October
1967 – Che Guevara was executed by Bolivian soldiers for attempting to incite a revolution in Bolivia.
1975 – Andrei Sakharov was awarded the Nobel Peace Prize. The Soviet scientist is known as the "father of the hydrogen bomb."
1989 – The official Soviet news agency Tass reported an unidentified flying object. The report included a trio of tall aliens that had visited the city of Voronzh.
Wednesday 10th October
1911 – China's Manchu dynasty was overthrown by revolutionaries under Sun Yat-sen.
1943 – Chaing Kai-shek took the oath of office as the president of China.
1987 – Tom McClean finished rowing across the Atlantic Ocean. It set the record at 54 days and 18 hours.
Thursday 11th October
1886 – Thomas Edison, 19 years old, filed for a patent on his first invention. The electric machine was used for counting votes for the US Congress, however Congress did not buy it.
1899 – The Boer War began in South Africa between the British and the Boers of the Transvaal and Orange Free State.
1976 – The "Gang of Four" of China was charged with plotting a coup and were arrested and imprisoned.
Friday 12th October
1492 – Christopher Columbus, an Italian explorer, sights Watling Island in the Bahamas. He believed that he had found Asia while attempting to find a Western ocean route to India.
1810 – Bavarian Crown Prince Ludwig married Princess Therese of Saxony-Hildburghausen. The royalty invited the public to attend the event which became an annual celebration that later became known as Oktoberfest (and you thought it was a beer festival!)
1960 – Soviet premier Nikita Khrushchev pounded a shoe on his desk during a dispute at a U.N. General Assembly.
Saturday 13th October
54 A.D. – The Roman emperor Claudius I died after being poisoned by his wife, Agrippina.
1990 – Le Duc Tho died at the age of 79. He was a co-founder of the Vietnamese Communist Party.
1992 – A commercial flight record was set by an Air France supersonic jetliner for circling the Earth in 33 hours and one minute.
---
DATES FOR YOUR DIARY
Friday 19th – Sunday 21st October: 2001 Kuala Lumpur Rotary Institute. There are already more than 300 registered, so register quickly if you wish to attend as space may be limited.
Sunday 28th October: District Ten Pin Bowling Tournament hosted by The Rotary Club of Kwai Chung at Mei Foo Super Fun Bowl. President Ramesh is trying to put together a team for this event to represent our club. If you are available for a fun afternoon, please let him know. Bowling experience is not necessary – just the ability to enjoy yourself!
Tuesday 30th October: The District Vocational Service Seminar, hosted by Rotary Club of Peninsula, will be held at their regular luncheon meeting at the Hong Kong Hotel from 12.00 pm – 2.00 pm.
Thursday 1st November: This is the deadline for Rotarians to nominate a non-Rotarian or organisation for the 2002 Rotary Award for World Understanding and Peace. Forms are available from District Governors and the RI website.
Sunday 4th November: The 6th annual "Stride for a Cure" of the Hong Kong Cancer Fund. If you have registered and wish to support the event further, you can contact Rtn Brian Wong to obtain sponsorship forms. The form with the donation may be passed to him during the lunch meetings or on the event day. They will be collectively sent to the Cancer Fund on your behalf.
5th – 11th November: This week is designated World Interact Week by Rotary International, during which we are asked to plan some special activities with our Interactors.
Friday 16th November: DG Johnson Chu will be joining our Friday luncheon meeting. This will also be the induction of Miss May Chan, so let's all make an effort to attend this meeting and welcome May as a fellow Rotarian.
---
FROM THE BREADBASKET
I chose the following article from the ROTI Breadbasket in recognition of the upcoming 6th annual "Stride for a Cure" and our own special relationship with Camp Quality.
Children with Cancer
(Prepared by R. Morgan)
On July 14, 2001, ten-year-old Jose died. His sister stood by his bedside, crying softly as she watched her little brother succumb to a rare form of neuroblastoma. Little Jose had been fighting for six years, but the disease had proven to be too much. However, he was not alone when he died.
Jose's older sister, Shirley, had belonged to the Canyon High School Interact Club. When she knew that her little brother was dying, she made a plea to her friends. Even though he was losing his sight, Jose had always wanted to play Nintendo 64. Shirley's family could not afford this toy, so the Interact students joined together and had a fundraiser at a local bowling alley to raise money to buy Jose's Nintendo.
One month later, the Nintendo was by his bedside. The fundraiser had been such a success that the Canyon High School Interact Club was able to purchase 14 more of the toys for terminally ill juvenile cancer patients.
The club is planning to do another bowling tournament fundraiser next month, and they hope to double the amount raised. With the help of local businesses who have agreed to donate food and prizes, this dream is moving forward towards becoming reality.
Even when cancer does not kill children, it does far more than make them sick. Cancer robs them of children's dreams. Cancer robs them of children's hopes. When children with cancer hope, it is for release from pain. When they wish, it is for more days without chemotherapy and radiation that leave them weakened, too sick to eat and make their hair fall out. But children with cancer know they cannot be spared the chemotherapy, radiation, and the painful operations.
Whatever those treatments cost in money and pain, they are the children's only hope of staying alive. To see children fight cancer is to appreciate their courage. You marvel at their never-failing cheerfulness. But even more impressive is their desire to help others. As children see other children around them succumb to cancer, they know the same fate may await them. Yet even as they face the prospect of their own death, they hope their treatments will help others escape the same fate.
Life may seem difficult at times, but let us all learn from the actions of the Canyon High School Interact Club: to put a smile on a dying child's face is to warm your own heart forever.
AND FINALLY ….
In Britain, trousers cause twice as many accidents as chainsaws! (I dare not ask how!)