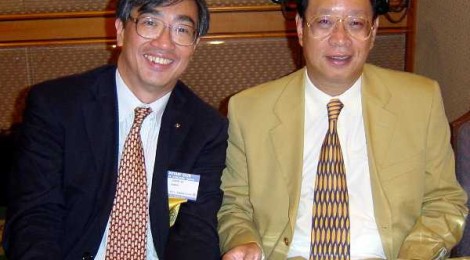 Volume 02 Issue 19
Dear Fellow Rotarians,
We had a fairly full house last week, with visiting Rotarians and guests. Joining us were IPP Veronica Dekrey from Hong Kong Harbour RC, Rtn Harry Ahluwalia from Peninsula RC and PP Joseph Kwan from RC of Kowloon Golden Mile, all of whom we have met at previous meetings. Our guests were also "second-timers" – Mr Ian Petersen, who was attending this week as a guest of PE David and Mr Tommy Tam attending as PDG Joseph's guest.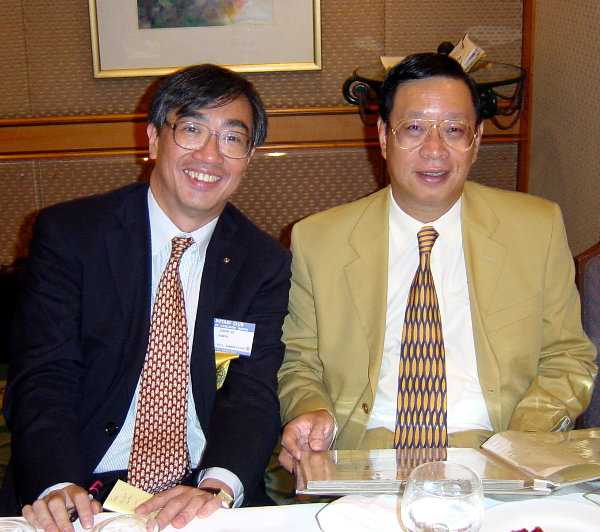 PDG Joseph with his guest Mr Tommy Tam
President Ramesh welcomed back to our ranks; PP Robert, PP M.S. Kalra, PP Steve, PDG Joseph, Rtn Brian and Rtn Howard. Sgt at Arms Frank was happy to report that although there had been no fines this week, donations to the box totalled HK$1,030.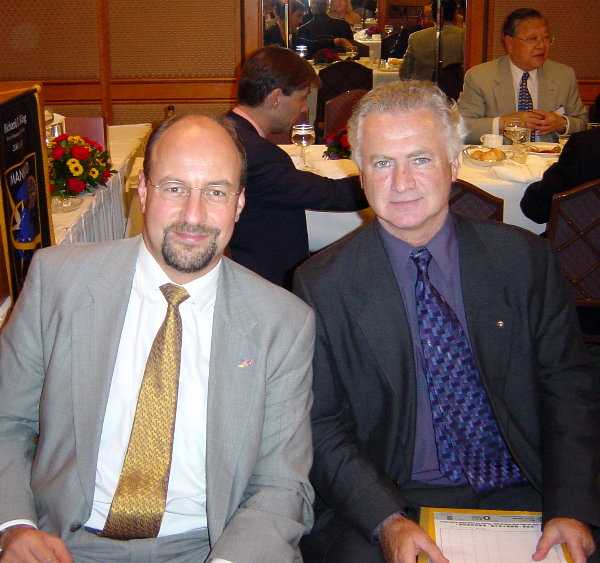 PP Gilbert and his always welcome guest, Ian Petersen
VP Nic reported that the Yantu should reach her halfway mark during this week. He has been bringing with him each week, a wonderful chart which shows that the leaders of the race are going strong – sometimes achieving over 90 nautical miles per day! – whilst "Tail End Charlie" is struggling along and has not yet passed quarter of the way. A full update on from Veronique on Yantu's progress can be found under The Yantu Project Update.
VP Nic also reminded members that a "behind the scenes" visit to the dolphins and their calves at Ocean Park, along with our previous guest speaker Dr Fiona Brooks, has been arranged for 17th November, meeting at the Ocean Park main entrance car park at 10.00 am. Spouses and children are welcome, but since there are a limited number of places available for this visit, please do let him know this week whether you wish to come along. It should be a great experience.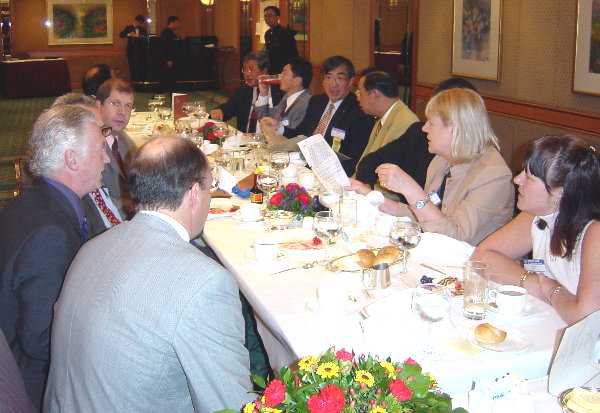 Enjoying a moment of fellowship
We were all reminded that 2 Friday luncheon meetings have been cancelled this month – those on Friday 9th and Friday 23rd November. We shall be guests of the Rotary Club of Kowloon Golden Mile on Wednesday 7th (same time, same place) and participating in a joint meeting and fellowship with the Rotary Club of Macau on Friday 23rd at the Military Club in Macau. Spouses are welcome to the meeting on 23rd November and PP Stella has kindly offered her assistance in obtaining discounted hotel rates for those who wish to make a weekend of it. Since our Club will be arranging and paying for the tickets and the meal, President Ramesh needs to know this week, who will be attending. So far 11 members have confirmed – we await with baited breath, news of whether PP Steve and Rtn Howard will obtain permission from their better halves to join us. (Hey fellas, why not invite them to accompany you?) We shall be catching the 6.30 pm jetfoil to Macau and for those who are returning, the 1.00 am jetfoil back to Hong Kong.
Unfortunately, our guest speaker was missing last week but we were very fortunate that IPP Veronica agreed to briefly relate her experiences when she visited the Head Office of Rotary International in Chicago a short while ago.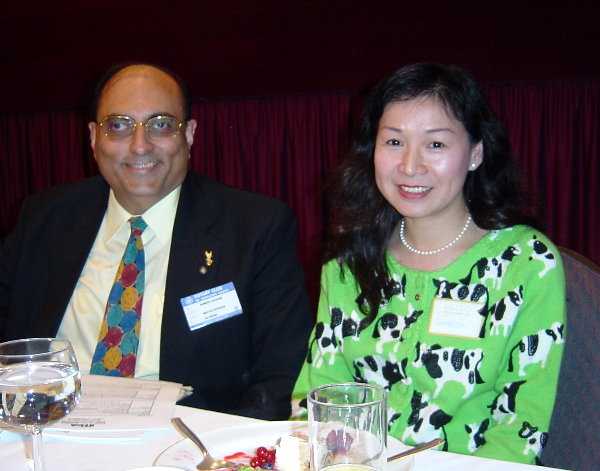 President Ramesh with IPP Veronica DeKrey
One Rotary Centre was bought by RI in the 1980's and is located in Evanston, north-west of Chicago. RI occupies 8 floors and houses an operations staff of approximately 400. IPP Veronica joined a conducted tour of the premises which took in RI President Rick King's office with its impressive collection of items from his travels around the world, as well as the "Wall of Fame" where the photographs of donors of more than US$1 million can be viewed. IPP Veronica noticed that IPP Bill's picture was not displayed and mentioned this to the tour guide who advised her that some donors may wish to remain anonymous. In those cases, the names of donors appear on a wall panel. Sure enough, when she checked it, she found his name displayed and told us – to much laughter from members – that she bowed reverentially 3 times before it. (She Was kidding, wasn't she?)
Yours in Rotary,
Nicole Burt
---
SPEAKERS THIS MONTH
Last Week's Speaker (2nd November) Our scheduled guest speaker for last week – Mr Damdinjamts Turbileg, Head of the Political & Economic Section of the Consulate of Mongolia in Hong Kong – was unable to attend. VP Nic will be trying to reschedule him for a later date.
Wednesday 7th November: Don't forget, this week the MEETING HAS BEEN REPLACED by a joint meeting with RC of Kowloon Golden Mile commencing at 12.30 at the Holiday Inn Golden Mile. Their speaker will be Mr Larry N Cambron, President for the Asia region responsible for DBM operations and client services, who will be talking about "The Changing World of Work".
Friday 16th November: DG Johnson Chu – District Governors Visit
Friday 23rd November: Joint Meeting with Rotary Club of Macau
---
WELCOMING COMMITTEES
Friday 16th November: Nicole Burt & M S Kalra
Friday 23rd November: Raju Wadhwani & Daniel Hackston
Friday 30th November: Nigel Montague & Albert Lam
---
NEWS – NEWS – NEWS
CLUB NEWS
Stride for a Cure
Rtn Brian told us that this year, the Rotary Club of Kowloon North was fielding 84 participants for "Stride for a Cure", which was held on Sunday 4th November, made up of members and their families and friends. IPP Bill added that 20 of our Interactors and 44 participants from Camp Quality would also be taking part.
We were to meet at the Hong Kong International School playing field in Tai Tam at 9.15 am for the opening ceremony and warm-up exercises, which were conducted by a disgustingly energetic (for a Sunday morning) "cheerleader" from one of the local gyms. Let me tell you, you haven't seen anything until you've seen PP Gilbert trying to mimic the gyrations of the team on the stage whilst PE David looked at him in, what I generously assume, was awe. As for Rtn Howard, I think you will agree, that a picture speaks a thousand words!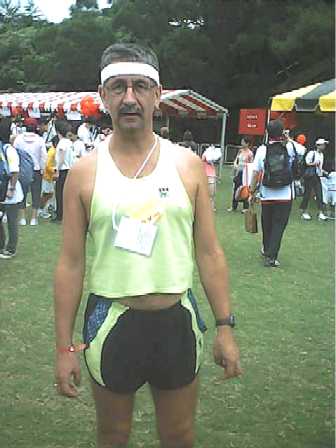 Howard in Armani
Those of us attempting the full 12 kms gathered at the "gate", chomping at the bits as a light drizzle began and at promptly 9:45 am we were off! And it was PE David, PP Gilbert and Rtn Howard in the lead, closely followed (but not for long) by Rtns Susie and Nicole. Luckily the drizzle didn't last long and the temperature was perfect for the event.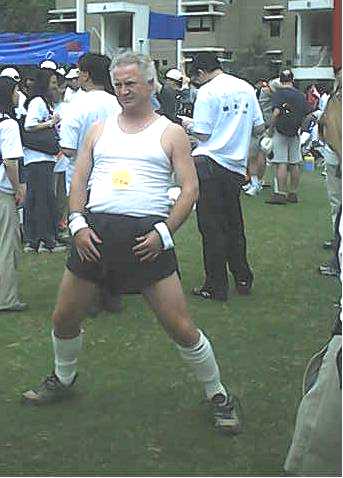 PP Gilbert's gyrations
Two and a half hours later, footsore but satisfied, we were back. Our intrepid Trailwalkers managed the course in 1 hour and 24 minutes, but they ran a good part of the way and had weeks of training under their belts. The 5 km walkers were lounging around offering words of comfort such as "the massage centre is over There"… With approximately 2,500 walkers taking part, the event was another success. Now if I can just get over walking like a penguin …
Camp Quality
Two weeks ago, Camp Quality had their third day camp for mainland children from the Sun Yat Sen Hospital. The China Camp was another great success and Camp Quality was able to serve more children this time with 150 people attending their morning tea party. 140 children were taken to Guangzhou Zoo and Ocean World. They were also able to recruit a few more new campers this time, which takes the number of mainland campers to 72.
A Camp Quality staff member told us "everything went very smoothly and the children were so excited that one felt excited for them, you could use the word "hysterical with excitement" for some of the kids!!, I guess for most, it was the first time they were away from the parents and going to such a place."
Click here to read about this exciting camp.
MEMBER'S NEWS
The Rotary Wheelers
The money raised by Trailwalker this year will support Oxfam Hong Kong's long term development and humanitarian relief programs to help poor people in Hong Kong, China, other parts of Asia and Africa. In Hong Kong, they will help to support local organisations which work with poor or disadvantaged people to develop their potential and abilities; such as the Hong Kong Occupational Deafness Association, The Education and Resource Centre for the Blind, which helps 500 blind students to study in mainstream schools each year and The Career Development Centre which provides training in computers, clerical skills and language for people with physical disabilities. The Rotary Wheelers are aiming to beat all records for money raised by a non-corporate team and have received sponsorship of HK$20,000 from our Club.
Our 4 Trailwalkers will be setting off at 1.00 pm this Friday (9th November) from Pak Tam Chung (the beginning of Sai Kung Country Park) and aim to finish some 28 – 30 hours later at Perowne Barracks in Tuen Mun. If you are free, why not come along and cheer them over the finishing line. We expect them between 5.00 pm and 7.00 pm on Saturday 10th but you can call Eve Roth Lindsay on her mobile phone 91910215 to check their ETA. Good Luck!
---
THE YANTU PROJECT UPDATE (written on 31st October 2001 by Veronique Faure)
Dear all,
Another week has gone by and they are still on the ocean, still rowing! When I think about how much travelling I have done, how many people I have seen and talked to since 7th October – all this time, they have been on this tiny boat with only water all around, and only themselves to be with. Even though Christian calls me virtually every day, it is still very hard to imagine!
After all the adaptation required in the first weeks, they seem to have found their daily routine. They now fully manage to continuously row the boat between the two of them. They have 2-hour shifts: while one rows two hours, the other one either rests (at night) or gets on with "housework": cooking, running and checking the water-maker, checking route and position, or doing some necessary cleaning or repairs. For example, Sun Haibin worked his rowing seat and adjusted its height. With such a high number of repetitions of movements, every little detail makes a difference.
They take their meals around 9am, 2pm, 9pm and a night snack at 3am. The dinner is usually a hot meal, cooked with gas canisters. They take turns cooking and always have their meals together, the only simultaneous "time off" they have. Their food rations are labelled and packed for each day and contain a total of 6000 calories for 24 hours for each person. This includes drink powders, to be mixed with water, which not only hide the plastic-salty taste of the sea water after the desalination process, but also replace precious minerals lost in sweat.
Free time is mainly spent resting or sleeping. The only distractions they have brought on board are one book and 2 tapes each. Satellite phone calls also count as distraction or at least relaxation for both of them.
At the moment, their biggest problem is a broken hinge on the cabin hatch. After talking to the boatyard manager who equipped the boat, Christian found out that it was unrealistic to hope to repair this on board. This is a worry as it compromises the water-proof quality of the cabin and the strength of the hatch, which could be problematic in tough weather conditions. However, Christian did not sound overly worried, and they are the best judges of their situation.
In terms of position in the race, Yantu has remained around 20th to 22nd position. This was hard on their morale last week, but by now they seem to have changed their attitude and not really care so much about their position: what really matters to them is to keep moving forward and keep a good rhythm. Over the last few days, they have increased their speed to around 50 nautical miles per day (1 nm = 1.85 km), sometimes even more. They have now reached the area of the trade winds and are changing their route towards the West. While the waves are irregular in the morning, the rest of the day is mostly easier with regular waves pushing them in the right direction.
The heat has sensibly increased, and even though they have mainly had cloudy weather, the temperature is around 28-29 degrees celcius, with a high level of humidity. While this is not too much of a problem for them while rowing (in that respect, Hong Kong was agreat place to train!), it is quite uncomfortable for sleeping.
If you would like to check the boat's position in the race, please visit www.yantu.com. There you can also read more about the Yantu project and make a donation to enable Mainland Chinese students to study at the United World College of the Atlantic – a school based in the UK, which aims at promoting international understanding. Please contact me at veronique.faure@bigfoot.com if you encounter any diificulty in accessing the website. News about other teams can be found on www.wearc.com.
Thank you for your support,
Veronique
PS: Several articles on Yantu have been published by the press in Hong Kong, China, Denmark and maybe other places. If you come across any of them, I would be grateful if you could send me a copy at the address below. I am collecting press clippings and would like to take them to Barbados for the two of them to read on arrival. Thanks in advance for your help. Address: Veronique Faure, Kellerstrasse 14, 81667 Munich, Germany.
---
DATES FOR YOUR DIARY
Friday 9th November: The Friday Luncheon Meeting has been replaced by a joint luncheon meeting with the RC of Kowloon Golden Mile on Wednesday 7th (same venue, same time), as a team of intrepid (dare I say "mad"!) Rotarians from our Club will be participating in the Maclehose Trailwalkers event. PE David, IPP Bill, PP Gilbert and Rtn Howard, will be setting off at 1.00 pm on this day and aim to finish 28 hours later.
Friday 16th November: DG Johnson Chu will be joining our Friday luncheon meeting (rather than replacing the luncheon with an evening meeting/fellowship). This will also be the induction of Miss May Chan, so let's all make an effort to attend this meeting and welcome May as a fellow Rotarian.
Friday 23rd November: Rotary Club of Kowloon North and Rotary Club of Macau Joint Meeting to be held at Macau Military Club, No. 975 Avenida Praia Grande (less than 5 mins. by taxi from the jetfoil pier). All members are encouraged to bring their spouses and families or friends with them so that we can enjoy an evening of fellowship with our Rotary friends in Macau, followed by a relaxing weekend in Macau.
Sunday 2nd – Tuesday 4th December: RI President Rick King will be in Hong Kong. More details will follow in the near future.
Sunday 13th January: The District Sports Day will be held at the Wanchai Sports Ground. The organizing committee is seeking sponsors of small gift items such as toys, games and stationery etc. for the children's game competition programme. If you can support the event in this way, please contact PP Kenneth Chow at Grand@gelhkg.com.hkfor collection of the gift boxes.
---
BIRTHDAYS THIS MONTH
Thursday 8th November: PP Bruce shares his birthday with original "horror meister" Bram Stoker (1847), "Gone With The Wind" authoress Margaret Mitchell (1900), the redoubtable Katherine Hepburn (1909) and pioneering heart surgeon Dr Christian Barnard (1922).
On this day in history …
1656 – Edmond Halley was born. Halley, an astronomer-mathmatician, was the first to calculate the orbit that was named after him. The comet makes an appearance every 76 years.
1887 – Doc Holliday died at the age of 35. The gun fighting dentist died from tuberculosis in a sanitarium in Glenwood Springs, Colorado.
1997 – Chinese engineers diverted the Yangtze River to make way for the Three Gorges Dam.
Saturday 10th November: Spare a thought for Rtn Howard who, as well as celebrating his birthday, will hopefully be celebrating crossing the Trailwalker finishing line in one piece – although he probably won't have the stamina left to do any partying! He shares his birthday with the late famed Welsh actor Richard Burton (1925), American actor Roy Scheider (1935) and lyricist Tim Rice (1944).
On this day in history …
1871 – Henry M. Stanley, journalist and explorer, found David Livingstone. Livingston was a missing Scottish missionary in central Africa. Stanley delivered his now famous greeting: "Dr. Livingstone, I presume?"
1970 – The Great Wall of China opened for tourism.
1993 – John Wayne Bobbitt was acquitted on the charge of marital assault against his wife who mutilated him. Lorena Bobbitt was later acquitted(!) of maliciously wounding her husband.
---
FROM THE BREADBASKET
THE OTHER OLYMPICS
(Ariel Dorfman – October 2000, submitted by Bob Stewart)
Who is Kailash Satyarthi? Or Juliana Dogbadzi? What about Ka Hsaw Wa? Marina Pisklakova? Senhal Sarihan?
Let me confess that, less than a year ago, I couldn't have answered these questions, I didn't know that Kailash Satyarthi has dedicated a whole life to freeing millions of enslaved children in his native India, I had never heard of Juliana Dogbadzi, how she was sold to a Trokosi priest in Ghana by her parents when she was twelve, the degrading seventeen years that followed, nor how she managed to escape the shrine and is now devoted to the liberation of so many African women festering in sexual slavery. And Ka Hsaw Wa? He's from Burma and lived for years in the jungle collecting the life stories of some of the most exploited and repressed peasants on this Earth. And Marina Pisklakova organized the first hot-line in Russia for battered women. And Senhal Sarihan has ceaselessly defended political prisoners in Turkey, as well as jailed children, Senhal Sarihan who gets up early at dawn to gather flowers to take to the incarcerated minors so they may remember what life outside the prison walls might someday be like.
If I can now transcribe all these unknown names of human rights defenders, and add some information about them, it is because I have been blessed during the last six months with their luminous presence, listening to the murmur of their voices, attempting to offer those voices a permanent literary home.
This extraordinary opportunity to spend some time with them began last March, when I was asked by Kerry Kennedy Cuomo, herself a human rights lawyer, to write a play based upon interviews she had carried out over the last years with a group of the forgotten and essential heroes of our time. That book, Speak Truth to Power, also highlighted some famous activists, like the Nobel Peace Prize Winners Rigoberta Menchú Tum, Elie Wiesel, Desmond Tutu, Costa Rica's former President, Oscar Arias, José Ramos Horta from East Timor and Bobby Muller from the United States. Bobby Muller? One of those organizers of the campaign against land-mines that lead to an international treaty to ban those machines of death and destruction. Also interviewed were other well-known (and gentle) agitators: Sister Helen Prejean – of Dead Man Walking fame, Wei Jingsheng, the foremost Chinese dissident, as well as Muhammad Yunnus who has made it his task to offer microcredits through the Grameen Bank to impoverished and enterprising women from Bangladesh and other countries, revolutionizing millions of lives. But most of the stories in the book have been, by and large, ignored by the media: eminent lawyers Digna Ochoa from Mexico and Juan Méndez from Argentina, who were tortured by their governments and nevertheless continued to represent the desaparecidos and other prisoners of conscience, and Rana Husseini, who investigates and assails the honor killings of women in Jordan and Van Jones who has documented and condemned police brutality here in the States and human rights militants from Chile and the Congo and Nigeria and Northern Ireland and Vietnam and Serbia, and María Teresa Tula and Abubacar Sultan and Vera Stremkovskaya, and I could go on and on, names and lives who should be on everybody's lips and who remain unfamiliar to most of the wounded humanity they have sworn to defend.
That was one of the reasons why I felt I could not refuse the chance to turn their words into a dramatic piece that would draw attention to their achievements. But I was also animated by a more personal enigma that has haunted my adult life, the incessant question about courage and its mysterious origin, why is it that certain human beings, when confronted by misery and injustice and pain, risk their lives to speak out, whereas so many others close their eyes and keep quiet. I thought that these very special men and women could perhaps elucidate the sources of that strength, from what internal, stubborn angels does rebellion spring?
And so I embarked on a journey with these fifty-one human rights defenders, I accompanied their slow walk into the corridor of death and their even slower search for hope, I allowed them to speak through me as my hands wrote out a vast tapestry with their hidden words, a sort of spoken cantata which interwove testimonials and poetry and narrative. And I discovered that it is not physical death that these guardians of our human dignity most fear, but rather indifference, that colder and more perverse and dangerous form of death which settles in the soul when we witness something terrible and cruel and incredibly stupid being perpetrated upon our fellow humans and we prefer to forget those crimes, we prefer to switch the channel or go to sleep or walk the dog.
And it was that indifference and its sad cousin apathy, that we tried to defeat last week, the night of September 19th, when we had the first reading of the play at the Kennedy Center in Washington, D.C.. In order to make sure the world did indeed listen, President Clinton had been enlisted to introduce the evening and nine remarkable actors – Kevin Kline, Signourney Weaver, John Malkovich, Rita Moreno, Alec Baldwin, Giancarlo Esposito, Hector Elizondo, Julia Louis-Dreyfuss and Alfre Woodard – provided their tongues to the lives of the human rights defenders. All of which guaranteed a television broadcast on PBS and thousands of copies of the play sent into schools in the United States and around the world. But what made the evening truly unforgettable were not the words I managed to transcribe or the way in which the actors delivered the lines. When the last speech had been pronounced, recalling that the work had just begun, that the defendants were never really alone, that any other life than the one they had chosen would have tasted like ashes, when the lights began to dim on the nine performers and the show was over, that was when the real magic started. A curtain suddenly opened and there, standing behind the Hollywood stars, were the real defenders themselves in all their remarkable and endangered flesh , the very men and women whose lives had just been staged.
Some were missing – the Dalai Lama and Vaclav Havel had not come and at the last moment Judge Baltasar Garzón, the man responsible for Pinochet's arrest in London, had been forced to cancel his appearance -, but most of those interviewed in the book had made the trip, from Pakistan and Kenya and Colombia and the Ivory Coast and Peru and Cambodia, a constellation of activists and causes and countries and struggles that are all too rarely seen together on one platform. Not just side by side in the quiet pages of a book but bristling with energy on a real stage. And then those obscure conquerors of fear advanced towards some of the best known faces on this planet, towards the actors who are among the most recognized people in this world, and greeted them and then the public and in a gesture Martin Luther King would have enjoyed as much as Pirandello those who had carried out during the long days of their lives the fight for human rights embraced those who had just, a few moments before, been representing their existence. Our astonished eyes saw Sigourney Weaver hug Dianna Ortiz, the Northamerican nun who had been tortured in Guatemala, and Kevin Kline met the Egyptian lawyer Hafez Al Sayed Seada, and Julia Louis-Dreyfuss put aside her Seinfeld persona and held Fauziya Kassindja in her arms, that young woman who had, because of her fear of genital mutilation, managed to gain political asylum in the United States in a groundbreaking case that opened the doors to so many other oppressed women. There were the performers and there were the characters, mirrored and dancing together in celebration of their multiple common causes, bodies and words, interpreters and interpreted, for five minutes, ten minutes, fifteen minutes, while the spectators applauded wildly, unable to leave the auditorium of the Eisenhower Theatre.
And seeing some of the most visible beings on this planet hand in hand with some of those least visible, I had a biting intuition of how precarious this moment of wonder really was, how ephemeral were these lights of publicity in the capital of the United States. This exceptional gathering at the Kennedy Center could well be hailed as the Olympics of Ethical Conduct, a confluence of the best and most excellent capacity of our species for bettering itself. And yet, it was worth wondering, at the very instant when the Olympic Games in Sydney were being held on the other side of the globe, it was worth asking ourselves how much attention would be paid to these other champions, the trustees of our human dignity, in the days to come, when they returned to their threatened existence in their insecure and faraway nations, how many newspaper pages and how many hours of television would be destined to disseminate the lives of Patria Jiménez and Marina Pisklakova and Raji Sourani and Koigi Wa Wamwere and Kek Galabru, who was really interested in their final destiny? How can we possibly be so obsessed with the drama of who is the fastest man in the world, who can break the record for swimming butterfly style, who can outrace all the other women in the marathon, which team is better at handling a ball in space, how can we be glued to our screens to see these efforts of the body, and we show such scant interest in who is the bravest in confronting iniquity, which woman is the most tenacious in denouncing the causes of pollution, who is the most serene of our contemporaries in proclaiming that we cannot sleep well at night while so many billions are spent on guns and generals and so little is offered for schools and hospitals?
Don't get me wrong: I have nothing against the twirling and spectacular gyrations of the gymnasts or the colossal fortitude of the weight lifters, I have only admiration for those who defy the forces of gravity and score points with a ball on land or water or air.
But the burning question remains there, still hangs there, it challenges our lost souls with its terrible demands. Who is Kailash Satyarthi? Who is Gabor Gombos? Who is Asma Jihangir? And why doesn't every thinking human on this pitiless planet know the answer to these questions?
---
AND FINALLY ….
Some trivia for you:
Blackbeard the pirate would put slow-burning fuses under his tricorn hat to wreath his head in black smoke and frighten his opponents.
Before he settled on Mark Twain, Samuel Clemens wrote under the names Thomas Jefferson Snodgrass, Sergeant Fathom and W. Apaminondas Adrastus Blab. §
The average human eats eight spiders in their lifetime at night. (Eeeww!! I'll bet that's more than you wanted to know!)