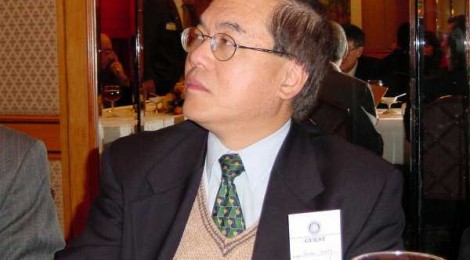 Volume 02 Issue 29
Dear Fellow Rotarians,
Our guests this week were George Cheng, who was attending as Rtn Brian's guest. As you know, George is a colleague of Hon Sec Chris and although he is not a member, he has already shown true Rotary spirit and given his time to travel into China to find a supervisor for the construction work being carried out in connection with the New Schools Project.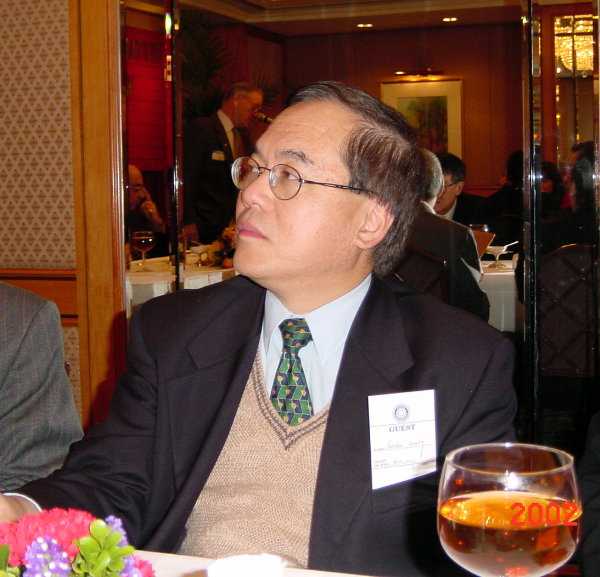 George Cheng
Also joining us was Ian Petersen, attending as PP Gilbert's guest. Ian has been nominated as a candidate for Rotary membership and should there be no objections, will be inducted at a meeting next month.
Contributions to the box this week totalled HK$540.
Rtn Brian gave a brief reminder of the visit to the elderly in connection with St James' Settlement and President Ramesh announced a Camp Quality trip to Mai Po Marshes on Saturday 26th January.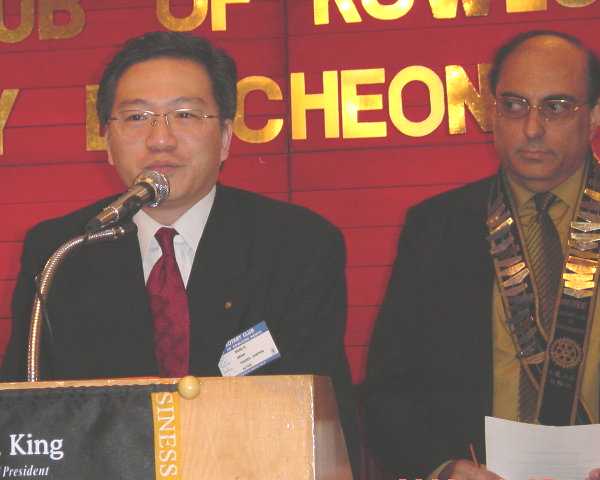 Rtn Brian reminds members about the visit to the elderly
Next week's Sampan will be brought to you by Rtn Howard as I will be joining PE David and his daughter Jasmine, VP Nic and his wife Winnie, PP Gilbert and SAA Frank on a trip with Les Whittle of Holt China Children's Services, to an orphanage in Nanchang, China to deliver toys for Chinese New Year, together with baby clothes and other much-needed supplies.
If you are in town, please make an effort to attend the Rotary luncheon on 8th February. The speaker will be my good friend Dennice, who – although she is only in town for 3 days on her way back from Australia to London – has agreed to come and talk to us.
Till the week after next …
Yours in Rotary,
Nicole Burt
---
SPEAKERS
Last Week (25th January) PP Joop Litmaath from the Rotary Club of Hong Kong joined us to discuss Membership Development. Born in The Netherlands in 1934 and a permanent Hong Kong resident for almost 40 years, PP Joop joined the Rotary Club of Hong Kong in 1979. He served as its President in 1992-93 and thereafter, twice as one of District 3450's AG's. This year he acts as one of the Membership Development Coordinators. He is a Paul Harris Fellow and a multiple benefactor to the Rotary Foundation. In April 1986, he received a Knighthood in the Order of Orange-Nassau from HM Queen Beatrix of The Netherlands.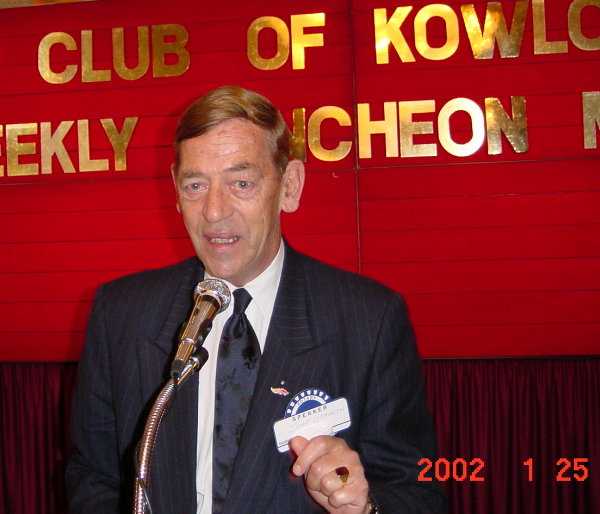 PP Joop Litmaath discusses Membership Development
Click here to read PP Joop's informative discussion on Membership Development.
This Week (Friday 1st February) Albert Chan, Oxfam – Oxfam
Friday 8th February: Dennice Allen, Invest IT Limited, London – IT in the Finance industry: HK vs the UK and the approach used by each region
Friday 22nd February: Con Conway, Olympic Committee – HK's Involvement in the Olympics
---
WELCOMING COMMITTEES
Please arrive early if you are on the Welcoming Committee. Most guests or visitors arrive at 12.30 prompt and there is usually no-one available to greet them.
Friday 1st February: Gary Harilela & Robert Ho
Friday 8th February: May Chan & Joseph Lee
Friday 22nd February: Michael Harilela & Brian Wong
---
NEWS – NEWS – NEWS
CLUB NEWS
Cancellation Of Meeting
Don't forget, the luncheon meeting will be cancelled on Friday 15th February, as it is the 4th day of the Chinese New Year and a lot of members are likely to be out of town.
---
FELLOWSHIP NEWS
And now for something completely different! Rtn Dan is kindly organising a Fellowship Champagne Brunch for Sunday 10th March 10 at the Football Club in Happy Valley. Brunch runs from 11.30 am to 3.00 pm and as well as a mouth-watering spread, includes free champagne! At HK$135 per person (or HK$94 per child) this must surely be the best value in town.
All Rotarians, partners, spouses, and family are welcome but since space may be limited, we need to have your confirmation as soon as possible, but no later than Thursday 31st January 2002. Rtn Dan has provisionally booked 40 seats.
---
MEMBER'S NEWS
The Rotary Wheelers
The final tally for amount raised by the Rotary Wheelers is HK$1,378,513.13. This is a record in the history of the Trailwalk event and is a tremendous accomplishment by the team – PE David, IPP Bill, PP Gilbert and Rtn Howard. They haven't hung up their walking shoes yet though – PP Gilbert has entered them into the Flora London Marathon to be held on 14th April 2002!
---
THOUGHT FOR THE DAY
Share your happiness with others today.
---
THIS WEEK IN HISTORY …
Sunday 27th January
1606 – The trial of Guy Fawkes and his fellow conspirators began. They were executed on 31st January.
1926 – John Baird, a Scottish inventor, demonstrated a pictorial transmission machine called television.
1967 – More than 60 nations signed the Outer Space Treaty which banned the orbiting of nuclear weapons and placing weapons on celestial bodies or space stations.
Monday 28th January
1099 – The first Crusaders began a siege at Hosn-el-Akrad, Syria.
1547 – England's King Henry VIII died. He was succeeded by his 9 year-old son, Edward VI.
1788 – The first British penal settlement was founded at Botany Bay.
Tuesday 29th January
1820 – Britain's King George III died insane at Windsor Castle.
1845 – Edgar Allan Poe's "The Raven" was published for the first time in the "New York Evening Mirror."
1987 – "Physician's Weekly" announced that the smile on the face of Leonardo DeVinci's Mona Lisa was caused by a "…facial paralysis resulting from a swollen nerve behind the ear."
Wednesday 30th January
1790 – The first purpose-built lifeboat was launched on the River Tyne, England.
1933 – "The Lone Ranger" was heard on radio for the first time. The program ran for 2,956 episodes and ended in 1955.
1948 – Indian political and spiritual leader Mahatma Gandhi was murdered by a Hindu extremist.
Thursday 31st January
1606 – Guy Fawkes was executed after being convicted for his role in the "Gunpowder Plot" against the English Parliament and King James I.
1876 – All Native American Indians were ordered to move into reservations.
1950 – US President Truman announced that he had ordered development of the hydrogen bomb.
Friday 1st February
1920 – The Royal Canadian Mounted Police began operating.
1946 – Norwegian statesman Trygve Lie was chosen to be the first secretary-general of the United Nations.
1968 – During the Vietnam War, South Vietnamese National Police Chief Brig. Gen. Nguyen Ngoc Loan executed a Viet Cong officer with a pistol shot to the head. The scene was captured in a news photograph.
Saturday 2nd February
1536 – The Argentine city of Buenos Aires was founded by Pedro de Mendoza of Spain.
1848 – The first shipload of Chinese emigrants arrived in San Francisco, California.
1887 – The beginning of Groundhog Day in Punxsutawney, Pennsylvania. (See "And Finally…" for a full history.)
---
DATES FOR YOUR DIARY
Friday 1st – Sunday 3rd February: Visit to orphans in Nanchang, China with Holt China Children's Services, to deliver Chinese New Year gifts and other much needed provisions. Departing HK at 11.25 am on 1st Feb and returning at 10.15 am on 3rd Feb.
Saturday 23rd February: Rotary World Understanding and Peace Day.
Sunday 3rd March: The District Badminton Tournament 2001-2002 is being organised by the RC of Peninsula South, at Western Park Indoor Games Hall. The tournament will start at 9.00 am and is expected to finish by 4.00 pm. The fees are HK$250 per person per event, with water and a sandwich lunch included. The events will be Men's Doubles, Men's Singles, Ladies' Doubles, Ladies' Singles and Mixed Doubles. For enquiries contact P.F. Tsui at Tel : 93054112, Email : pftsui@hotmail.com.
Saturday 16th & Sunday 17th March: The District Conference will be held at the Shangri-la Hotel in Tsim Sha Tsui East on 16th & 17th March 2002. The official Conference opening will begin at 2.00 pm on Saturday 16th.
Friday 22nd – Sunday 24th March: Rotary International Asian Presidential Conference will be held at The Grand Hotel in Taipei.
Sunday 21st April: District Tree Planting Day
Saturday 27th April: Annual Fund Raising Ball to be held at The Football Club in Happy Valley.
---
ROTARY WORLD
Informality and friendliness are the hallmarks of the 60-member Rotary Club of Guelph-Trillium, Canada, which meets on Wednesday mornings at 7.30 am. At any meeting business attire, casual dress (i.e. no ties), and even denim will be found. But behind this apparent casualness, is a hard-working, spirited club. When the club was chartered in 1991, it undertook an ambitious project: to build an orphanage in Nepal. Today, that orphanage is a success, providing shelter to many children who don't have a home. The club is now expanding on this idea and is working to develop a program to help homeless, young girls in India by getting them off the street and into a safe and caring environment.
The club's main fund raiser is a combined Ribfest and classic car show that becomes a three-day community picnic which attracts some 40,000 people and raises more than $40,000 to support the club's local and international projects in the four avenues of service. The club is launching a new fund-raiser: a draw for a new Harley-Davidson motorcycle, valued at more than $30,000.
The Rotary Youth Student Exchange is also a source of pride and and joy for many club members and this year's in-bound student, Juliana Fleck from Brazil, has brought much excitement and happiness to her host families and to the entire club.
---
FROM THE BREADBASKET
Several times my daughter had telephoned to say, "Mother, you must come see the daffodils before they are over." I wanted to go, but it was a two-hour drive from Laguna to Lake Arrowhead. "I will come next Tuesday" I promised, a little reluctantly, on her third call.
Next Tuesday dawned cold and rainy. Still, I had promised, and so I drove there. When I finally walked into Carolyn's house and hugged and greeted my grandchildren, I said, "Forget the daffodils, Carolyn! The road is invisible in the clouds and fog, and there is nothing in the world except you and these children that I want to see bad enough to drive another inch!"
My daughter smiled calmly and said, "We drive in this all the time, Mother."
"Well, you won't get me back on the road until it clears, and then I'm heading for home!" I assured her.
"I was hoping you'd take me over to the garage to pick up my car" she said.
"How far will we have to drive?" I asked.
"Just a few blocks," Carolyn said. "I'll drive. I'm used to this."
After several minutes, I had to ask, "Where are we going? This isn't the way to the garage!"
"We're going to my garage the long way," Carolyn smiled, "by way of the daffodils."
"Carolyn," I said sternly, "please turn around."
"It's all right, Mother, I promise. You will never forgive yourself if you miss this experience."
After about twenty minutes, we turned onto a small gravel road and I saw a small church. On the far side of the church, I saw a hand-lettered sign that read, "Daffodil Garden." We got out of the car and each took a child's hand, and I followed Carolyn down the path. Then, we turned a corner of the path, and I looked up and gasped. Before me lay the most glorious sight. It looked as though someone had taken a great vat of gold and poured it down over the mountain peak and slopes. The flowers were planted in majestic, swirling patterns — great ribbons and wraths of deep orange, white, lemon yellow, salmon pink, saffron, and butter yellow. Each different-colored variety was planted as a group so that it swirled and flowed like its own river with its own unique hue. There were five acres of flowers.
"But who has done this?" I asked Carolyn.
"It's just one woman," Carolyn answered. "She lives on the property. That's her home."
Carolyn pointed to a well-kept A-frame house that looked small and modest in the midst of all that glory. We walked up to the house. On the patio, we saw a poster. "Answers to the Questions I Know You Are Asking" was the headline. The first answer was a simple one. "50,000 bulbs," it read. The second answer was, "One at a time, by one woman. Two hands, two feet, and very little brain." The third answer was, "Began in 1958."
There it was. The Daffodil Principle. For me, that moment was a life-changing experience. I thought of this woman whom I had never met, who, more than forty years before, had begun — one bulb at a time — to bring her vision of beauty and joy to an obscure mountain top. Still, just planting one bulb at a time, year after year, had changed the world. This unknown woman had forever changed the world in which she lived. She had created something of indescribable magnificence, beauty, and inspiration.
The principle her daffodil garden taught is one of the greatest principles of celebration. That is, learning to move toward our goals and desires one step at a time — often just one baby-step at a time — and learning to love the doing, learning to use the accumulation of time. When we multiply tiny pieces of time with small increments of daily effort, we too will find we can accomplish magnificent things. We can change the world.
"It makes me sad in a way," I admitted to Carolyn. "What might I have accomplished if I had thought of a wonderful goal thirty-five or forty years ago and had worked away at it 'one bulb at a time' through all those years. Just think what I might have been able to achieve!"
My daughter summed up the message of the day in her usual direct way. "Start tomorrow," she said. It's so pointless to think of the lost hours of yesterdays. The way to make learning a lesson of celebration instead of a cause for regret is to only ask, "How can I put this to use today?"
---
AND FINALLY ….
In 1723, the Delaware Indians settled Punxsutawney, Pennsylvania as a campsite halfway between the Allegheny and the Susquehanna Rivers. The town is 90 miles northeast of Pittsburgh. The Delawares considered groundhogs honorable ancestors. According to the original creation beliefs of the Delaware Indians, their forebears began life as animals in "Mother Earth" and emerged centuries later to hunt and live as men.
The name Punxsutawney comes from the Indian name for the location "ponksad-uteney" which means "the town of the sandflies."
The name woodchuck comes from the Indian legend of "Wojak, the groundhog" considered by them to be their ancestral grandfather.
When German settlers arrived in the 1700s, they brought a tradition known as Candlemas Day, which has an early origin in the pagan celebration of Imbolc. It came at the mid-point between the Winter Solstice and the Spring Equinox. Superstition held that if the weather was fair, the second half of Winter would be stormy and cold. For the early Christians in Europe, it was the custom on Candlemas Day for clergy to bless candles and distribute them to the people in the dark of Winter. A lighted candle was placed in each window of the home. The day's weather continued to be important. If the sun came out February 2, halfway between Winter and Spring, it meant six more weeks of wintry weather.
The earliest American reference to Groundhog Day can be found at the Pennsylvania Dutch Folklore Center at Franklin and Marshall College:
February 4, 1841 – from Morgantown, Berks County (Pennsylvania) storekeeper James Morris' diary… "Last Tuesday, the 2nd, was Candlemas day, the day on which, according to the Germans, the Groundhog peeps out of his winter quarters and if he sees his shadow he pops back for another six weeks nap, but if the day be cloudy he remains out, as the weather is to be moderate."
According to the old English saying:
If Candlemas be fair and bright, Winter has another flight
If Candlemas brings clouds and raid, Winter will not come again.
From Scotland:
If Candlemas Day is bright and clear, there'll be two winters in the year.
From Germany:
For as the sun shines on Candlemas Day, so far will the snow swirl until May.
For as the snow blows on Candlemas Day, so far will the sun shine before May.
And from America:
If the sun shines on Groundhog Day; half the fuel and half the hay.
If the sun made an appearance on Candlemas Day, an animal would cast a shadow, thus predicting six more weeks of Winter. Germans watched a badger for the shadow. In Pennsylvania, the groundhog, upon waking from mid-Winter hibernation, was selected as the replacement.
Pennsylvania's official celebration of Groundhog Day began on February 2nd, 1886 with a proclamation in The Punxsutawney Spirit by the newspaper's editor, Clymer Freas: "Today is groundhog day and up to the time of going to press the beast has not seen its shadow." The groundhog was given the name "Punxsutawney Phil, Seer of Seers, Sage of Sages, Prognosticator of Prognosticators, and Weather Prophet Extraordinary" and his hometown thus called the "Weather Capital of the World." His debut performance: no shadow – early Spring.
The legendary first trip to Gobbler's Knob was made the following year.