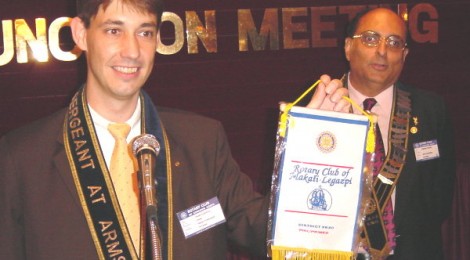 Volume 02 Issue 38
Dear Fellow Rotarians,
First of all, thanks to PP Bruce and Rtn Susie for taking over production of The Sampan whilst I was away. 3 weeks felt like a long time, but now that I have been back for a week and a half, it feels like I was never away!
We had a good turnout last week with 22 members and 1 guest – PP Peter Scholz, who was attending as the guest of PP Gilbert. PP Peter was known to many members as he was the 1994-1995 President of Kowloon North.
SAA Frank reported that he had collected HK$1,890 in donations to the box and fines to Rtn Nicole for forgetting her pin and PP Patrick for failing to attend a meeting in which he was on the Welcoming Committee (for which he apologised). Be warned – SAA Frank is taking this duty seriously!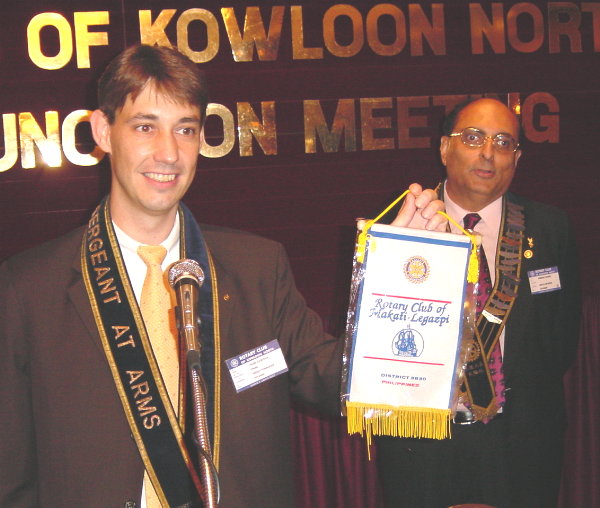 Sergeant Frank display a banner.
SAA Frank then presented the club with the banner he received during his make-up meeting at the Rotary Club of Makati-Legaspi whilst he was in the Philippines recently. He reported that they had expressed a desire to unite as sister clubs and this will, no doubt, be put to the Board.
Rtn Nicole also presented the club with a banner from the newly chartered Rotary Club of Dubai and reported that when she attended a make-up meeting, there were about 70 people at the meeting. Whilst the club already boasts 37 members, District 2450 had held their District Conference in Bahrain the previous weekend and upon learning that there was a new club in Dubai, a number of Egyptian Rotarians decided to re-route their homeward trip through Dubai.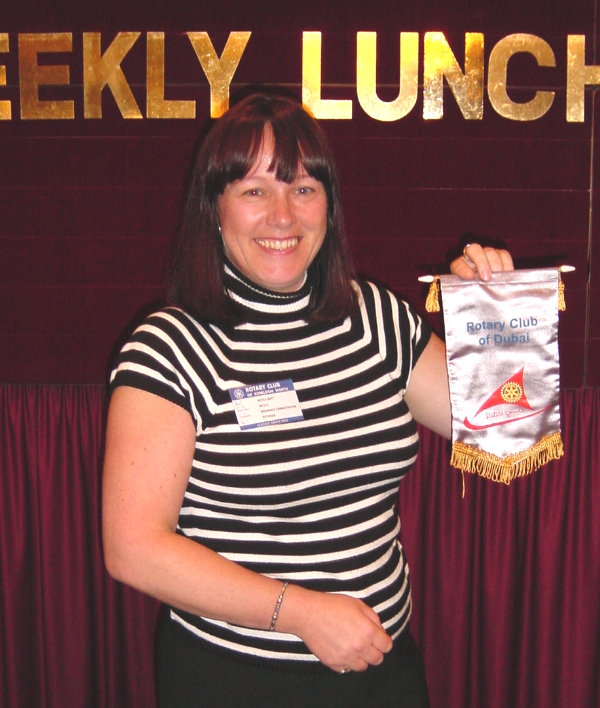 Rtn. Nicole displays a banner.
President Ramesh then presented Rtn Terry with a gift for his birthday, which fell on 6th April, and club members gave a fine rendition of Happy Birthday.
PDG Joseph expressed his thanks to his Rotary friends for their condolences on the recent death of his father and to the Club for the wreath which was sent.
IPP Bill & PE David presented the Club with a certificate which they had received on our behalf from L.E.A.P. The certificate read "Life Education Activity Programme – In deepest appreciation for your support of L.E.A.P. in helping us to keep Hong Kong's children healthy, happy and drug-free."
Finally, President Ramesh called upon all of us to make a note in our diaries that the District Installation will be held on 4th July this year.
That's all for now. Till next week …
Yours in Rotary,
Rotarian Nicole Burt
---
SPEAKERS THIS MONTH
Last Week's Speaker (Friday 19th March) was Kate Sun of the Special Needs Network who spoke to us on the topic of Special Needs Children in HK.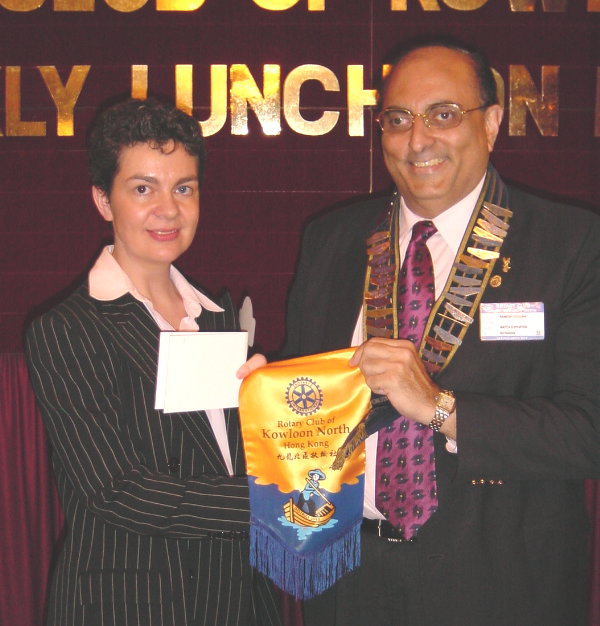 President Ramesh gives Kate Sun a banner.
In 1996, Kate Sun's life was going well: an Oxford graduate, she was working as a lawyer for the Hong Kong office of a big London law firm, happily married and pregnant with her first child. Everything changed when her child, Abigail, was born. Abigail has a rare chromosome abnormality that means she is severely mentally retarded and will probably never walk or talk, remaining dependent all her life.
Kate's first instinct was to return to England, but because this was financially impossible, she was forced to find out what provision there is for mentally and physically handicapped children in Hong Kong. To her surprise, she found that there are some excellent services, both medical and educational. The problem, especially for the non-Cantonese speaking community, is finding out about them.
After a lot of blind alleys and false starts, Abigail is now doing well, but it has been a long and unnecessarily difficult road. In 1999, Kate and several other parents of children with special needs decided that nobody should have to go through what they had been through to find the provision their children need. Together, they founded Special Needs Network, a charity devoted to providing information and support for the international special-needs families of Hong Kong.
Today, the Special Needs Network consists primarily of families throughout Hong Kong with children with a wide range of learning, physical and sensory disabilities, with membership also extending to include professionals and friends who are involved with the families' and childrens' well-being and development. Their working committee includes parents of children with Downs Syndrome, global developmental delay, ADHD, chromosome deletion and autism, as well as special-needs professionals and they provide support and information to parents about matters relevant to caring for and educating a child with special needs.
For families caring day-to-day with a child with special needs support can be provided, for example, by participating in activities arranged by the Activities Group or joining or starting parent support groups. The Activities Group arranges social and recreational activities at various locations. New parent support groups have also recently been started at both Beacon Hill School and King George V School.
Friday 26th April: Fellowship Evening at the Viceroy – no speaker
Friday 3rd May: IPP Bill Benter – Afghan Refugee Camps
Friday 10th May: Herbert Lee; Speakers, Training & Consultants – Be a Better Performer
Friday 17th May: TBA
Friday 24th May: Christian Havrehed; The Yantu Project – A Life on the Ocean Wave! (Atlantic Rowers)
---
WELCOMING COMMITTEES
Please arrive early if you are on the Welcoming Committee as most guests and visitors arrive at 12.30 prompt. If you are unable to attend on that day, please ensure you make arrangements for a replacement (or else face the wrath of our Sergeant at Arms and his fine box!)
26th April: Chris Richardson & Bruce Stinson
3rd May: Peter Daswani & Harish Budhrani
10th May: Bill Benter & Chris Wong.
---
NEWS – NEWS – NEWS
ROTARY NEWS
Presidential Afghan Relief Appeal Bears Fruit for 48,000 Refugees
A major RI initiative is under way to aid Afghan refugees who have fled to Pakistan from the war in their country. To kick off the effort that is an outcome of a special disaster relief appeal made by Rotary International President Richard D. King this past December, a team of Rotarians recently undertook a mission aimed at distributing much-needed supplies to the poorest of those refugees. Most of them arrived in exile after years of enduring war and deprivation-sick and wounded, elderly people, women, and children, with little more than the clothes on their backs.
Past RI Director Lynmar Brock Jr., chairman of the RI Afghan Refugee Relief Effort Committee, led the Rotarian volunteers who participated in the effort, in collaboration with officials of the UN refugee agency, UNHCR, and the Pakistan government. Support from UNHCR is especially crucial, as the organization has the mandate, expertise, logistical resources, and experience required to identify and reach the most needy refugees. "The refugees are filled with hope and they are appreciative of people coming to do something for them," said Brock. "My impression is that they have an inner strength to make it through and an intense desire to go back to their home country. Our effort is to make it possible for them to go back as soon as possible."
On 2 and 4 April, the group started distributing relief supplies-procured from a US$1.7 million fund contributed in response to President King's appeal-to the 48,000 residents of the Shalman and Mohamed Kheil-2 refugee camps in North Western Frontier Province and Baluchistan. Over the next three months, the beneficiaries will be receiving an aid package that includes shawls, blankets, jackets, body and laundry soaps, tea leaves, dates, cookies, candies, water storage tanks, medicines and medical supplies, educational and recreational materials for children, kerosene lamps and oil, and artificial limbs. In addition, the Rotary effort will set up some basic skills training schools to prepare the refugees for gainful employment. "By coming to the aid of Afghan refugees, Rotary and Rotarians have demonstrated that they help on the basis of magnitude of need regardless of the location, caste, color or creed of the recipients," said Past District Governor Tariq Akhtar Allawala (D-3270), co-chairman of the RI Afghan Refugee Relief Effort Committee.
IPP Bill Benter, who participated in distributing relief to the refugees, said that Rotarians in Pakistan were an excellent and committed group. "My trip has made me an even firmer believer in the value of Rotary," he said. (Be sure to attend the meeting on Friday 3rd May, when IPP Bill will be recounting his experience.)
---

Sierra Leone SNIDs Reach More Than 1.3 Million Children
Rotary International and partner organizations came a step closer to eradicating polio in West Africa after staging two rounds of Sub-National Immunization Days (SNIDs) in as many months in war-torn Sierra Leone.
The rounds of immunizations, which targeted children under age 5, totalled 1.3 million-a major milestone for PolioPlus in a country that has endured 10 years of brutal civil war. The SNIDs penetrated newly accessible regions that have opened up following the end of hostilities between the Revolutionary United Front and Sierra Leone's government forces. At least 658,000 children were targeted in the most recent round of immunizations, which took place 6-8 April in eight districts in Sierra Leone's northern and eastern regions, according to Alhassan Seisay, coordinator of the national Expanded Programme on Immunisation (EPI) at the Ministry of Health.
Although Sierra Leone is more accessible for immunization work, the region still remains volatile. "Because of the problems in Liberia there were lots of children coming in and so we expect more in the second round," Seisay told the UN's Integrated Regional Information Networks (IRIN). The April SNIDs followed another successful round, held 2-4 March, that reached some 647,931 children, almost 98 percent of the targeted population. Vitamin A, which helps prevent night blindness, measles, diarrhea, and chest infections, was also administered, Seisay said.
Sierra Leone National PolioPlus Committee Chairman S.H.O.T. Macauley coordinated Rotary's participation in the SNIDs. PolioPlus Partners gave US$258,446 to Sierra Leone to support surveillance and immunization campaigns including such items as megaphones, bicycles, and refrigerators that were used in this campaign. Of the funds earmarked for the SNIDs in Sierra Leone, $75,000 came from a $500,000 gift of the late Paul and Jean Elder. "I think we are on target," said Macauley. "If we continue on this track, we will definitely be certified polio-free by the 2005 date."
---
FELLOWSHIP NEWS
Fellowship at the Viceroy of India
There will be no lunchtime meeting this week. Instead PP Gary has organized a fellowship to be held at "Viceroy of India", Sun Hung Kai Centre, Wanchai from 7.30 pm – 11 pm. The dress code is smart casual, and the price for the Indian BBQ on the terrace plus all drinks throughout is HK$350.
Please support the fellowship by inviting your Spouses, Partners, guests and indeed, any friend whom you feel can make a good Rotarian in the future.
If you have not already confirmed, please do so immediately by e-mailing PP Gary at:midco@harilela.com
---
THOUGHT FOR THE WEEK
If ignorance is bliss, why aren't more people happy?
---
THIS WEEK IN HISTORY
Sunday 21st April:
753 B.C. – According to tradition, Romulus and his twin brother, Remus, founded Rome on the site where they were suckled by a she-wolf as orphaned infants.
1918 – In the skies over Vauz sur Somme, France, Manfred von Richthofen, the notorious German flying ace known as "The Red Baron," was killed by Allied fire. He was 25 years old.
1989 – Chinese students began protests at Tiananmen Square.
Monday 22nd April:
1970 – Earth Day, an event to increase public awareness of the world's environmental problems, was celebrated in the United States for the first time.
Tuesday 23rd April:
1014 – King Brian of Ireland was assassinated by a group of retreating Norsemen shortly after his Irish forces defeated them.
1564 – The great English dramatist and poet William Shakespeare was born in Stratford-on-Avon.
1616 – William Shakespeare died, also in Stratford-on-Avon, aged 52.
Wednesday 24th April:
1916 – In Dublin, the Irish Republican Brotherhood, a secret organization of Irish nationalists led by Patrick Pearse, launched the so-called Easter Rebellion, an armed uprising against British rule.
1953 – Winston Leonard Spencer Churchill, the British leader who guided Great Britain and the Allies through the crisis of World War II, was knighted by Queen Elizabeth II.
1980 – An ill-fated military operation to rescue the 52 American hostages held in Tehran ended with eight U.S. servicemen dead and no hostages rescued.
Thursday 25th April:
1859 – At Port Said, Egypt, ground is broken for the Suez Canal, an artificial waterway intended to stretch 101 miles across the isthmus of Suez and connect the Mediterranean and the Red seas.
1990 – The crew of the U.S. space shuttle Discovery placed the Hubble Space Telescope, a long-term space-based observatory, into a low orbit around Earth.
Friday 26th April:
1937 – During the Spanish Civil War, the German military tested its powerful new air force–the Luftwaffe–on the Basque town of Guernica in northern Spain.
1986 – the world's worst nuclear power plant accident occured at the Chernobyl nuclear power station in the Soviet Union.
1994 – More than 22 million South Africans turned out to cast ballots in the country's first multiracial parliamentary elections, which saw Nelson Mandela head a new coalition government.
Saturday 27th April:
1521 – After traveling three-quarters of the way around the globe, Portuguese navigator Ferdinand Magellan was killed during a tribal skirmish on Mactan Island in the Philippines.
1773 – The British Parliament passed the Tea Act, a bill designed to save the faltering East India Company by greatly lowering its tea tax and thus granting it a monopoly on the American tea trade.
1865 – Days after the end of the Civil War, the worst maritime disaster in American history occured when the steamboat Sultana, carrying 2,100 passengers, exploded and sank in the Mississippi River, killing all but 400 of those aboard.
---
DATES FOR YOUR DIARY
Saturday 18th May: Annual Fund Raising Ball to be held at The Football Club in Happy Valley.
Sunday 19th May: "Walking Along with Rotary", a locally produced documentary about Rotary in District 3450, will be shown on TVB Jade from 10.30 pm – 11.30 pm.
23rd – 26th June: The 93rd RI Annual Convention will be held in Barcelona, Spain.
Thursday 4th July: District Installation, Convention & Exhibition Centre, Wanchai
Saturday 7th September: Rotary Foundation Seminar, New World Renaissance Hotel
19th – 20th December: Intercity Meeting attended by 2002-2003 RI President Bhichai Rattakull
1st – 4th June 2003: The 94th RI Annual Convention will be held in Brisbane, Queensland, Australia
---
FROM THE BREADBASKET
Overcoming Adversity
(Prepared by R. Morgan, ROTI)
At 14, Alan Sea considers himself blessed. And clearly, he is: with an exceptional IQ and grades to prove it, with friends who share his passions for video games and basketball, with parents who do all they can to support him. And there's one other thing he's blessed with-mobility. Alan, who has cerebral palsy, got his first power wheelchair when he was 3; today, he tools around in the sleek Pride Jazzy 1120.
That isn't the case for most disabled people, as the Lexington, Kentucky, middle schooler and Interact assistant learned last year while selecting a service project for his bar mitzvah. In the past he had donated the wheelchairs he outgrew to an organization called The Mobility Project, which fixes up old equipment and distributes it in developing countries. He decided to find out more from Jenny Smith, the program's regional director in Louisville.
"I heard some pretty inspirational stories," he says. "One of them was of a woman who carried her 20-year-old son from a small village to get a chair. Some people are rolled in wheelbarrows."
These stories aren't unusual, Alan discovered. Few if any Third World countries have a system in place like the United States does to help the disabled poor get access to the equipment they need. So Alan and his mother, Nancy Redmon, got to work.
With the group's help, they organized a wheelchair collection at the Lexington Legends' baseball stadium last November. They collected more than 100 chairs in two days plus scores of walkers and crutches-almost 10 percent of the chairs that The Mobility Project collected nationwide in fiscal year 2001.
"Considering the size of Lexington," says Ray Terrill, vice president of The Project, "I would characterize Alan's drive as the best ever."
Those who know Alan weren't surprised: This is the kid who has learned enough sign language, despite a spastic left arm, to kibitz with a hearing-impaired classmate and who declares to his friends, "I'm going to kick butt" in the quick-recall competition in his social studies class (and does).
At Beaumont Middle School in Lexington, Alan "has revolutionized, for a lot of those kids, the idea of what a handicapped person is like," says Tim Stephan, Alan's classroom aide. "He understands that people are going to come at him differently. And he's mature enough to change their minds."
Alan has been exceeding expectations since he was a baby and his speech therapist told his mother he'd probably never speak normally. "We decided to babble to him," says Nancy, "and he babbled back to us. He was talking by the time he was 16 or 17 months old…and hasn't stopped." But then came elementary school.
For six years, school officials turned down Nancy's requests for a full-time aide to help Alan. Increasingly, he struggled with schoolwork, toilet accidents-and the perception that he just wasn't very smart, Nancy says. Middle school changed all that:
The staff there agreed Alan needed full-time assistance, and soon his classroom accomplishments caught up with his intellect. Testing revealed he had an IQ of 131-which puts him in a category that includes only about 2 to 3 percent of the population. Perhaps more importantly, his confidence returned.
"He's always laughing and finding the good in stuff," says Tim. "And he's a leader."
---
AND FINALLY ….
The 13 Rules of Life
1. Never give yourself a haircut after three margaritas.
2. You need only two tools. WD-40 and duct tape. If it doesn't move and it should, use WD-40. If it moves and shouldn't, use the tape.
3. The five most essential words for a healthy, vital relationship "I apologize" and "You are right."
4. Everyone seems normal until you get to know them.
5. When you make a mistake, make amends immediately. It's easier to eat crow while it's still warm.
6. The only really good advice that your mother ever gave you was, "Go! You might meet somebody!"
7. If he/she says that you are too good for him/her–believe them.
8. Learn to pick your battles; ask yourself, 'Will this matter one year from now? How about one month? One week? One day?'
9. Never pass up an opportunity to pee.
10. If you woke up breathing, congratulations! You have another chance!
11. Living well really is the best revenge. Being miserable because of a bad or former relationship just might mean that the other person was right about you.
12. Work is good, but it's not that important.
13. And finally… Be really nice to your friends and family. You never know when you are going to need them to empty your bedpan.