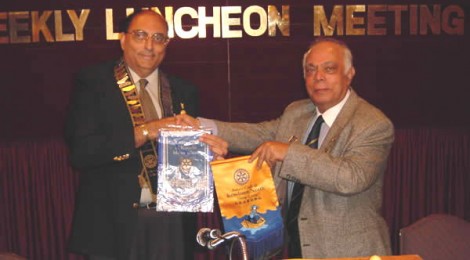 Volume 02 Issue 40
Dear Fellow Rotarians,
We had as our guest last week, PDG Abu Mohsin from the RC of Karachi Metropolitan, District 3270 in Pakistan. PDG Mohsin is a distinguished Rotarian who is Co-Chairman of the Rotary International Afghan Refugee Relief Effort Committee. He has been highly active in promoting Rotary in the Muslim world and has been involved in joint conferences promoting international understanding between Pakistan and India.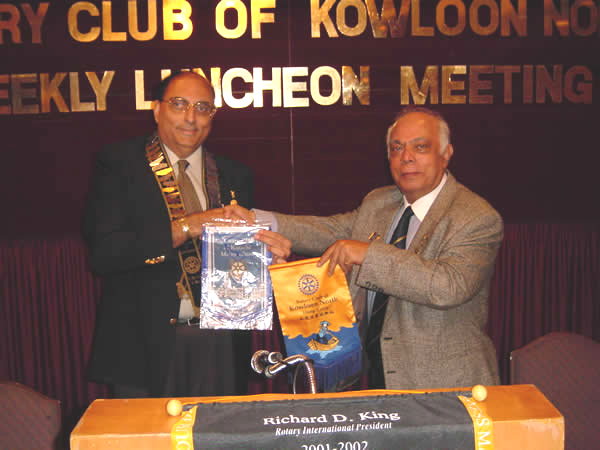 An exchange of banners with PDG Abu Mohsin
He and IPP Bill met during the recent visit by a delegation of Rotarians, to the Afghan Refugee Camps in Pakistan a few weeks ago. By happy coincidence, PDG Abu was travelling back from a conference in New Zealand and during his stop-over in Hong Kong, was able to attend our meeting on the very day that IPP Bill was giving us a presentation from his visit.
SAA Frank reported that contributions to "The Box", both by way of fines and donations, totalled HK$838 and some odd cents. (Where did those come from?)
After the customary exchange of banners, President Ramesh presented Rtn Raju with his a birthday gift in honour of his birthday which was in March!

Belated birthday boy – Rtn Raju
Finally, an announcement was made about the Camp Hollywood Ball – which as I write, is a mere 11 days away.
That's all for now. Till next week …
Yours in Rotary,
Rotarian Nicole Burt
---
SPEAKERS THIS MONTH
Last Week's Speaker (Friday 3rd May) was our own IPP Bill Benter – who gave an excellent presentation on his recent visit to the Afghan Refugee Camps in Pakistan, which he was fortunate enough to visit with a delegation of Rotarians.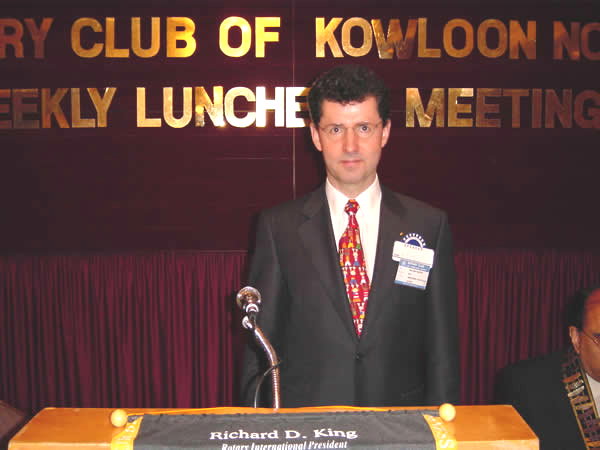 IPP Bill at the lectern
IPP Bill became involved after seeing an appeal by RI President Rick King on the Rotary International Web Site. President Rick had made a worldwide appeal to all Rotarians for donations to a Rotary effort to provide relief supplies
Click here to download images from the presentation and the refugee camp
Economic considerations have played second fiddle to political and military upheavals during two decades of war, including the nearly 10-year Soviet military occupation (which ended 15 February 1989). During that conflict one-third of the population fled the country, with Pakistan and Iran sheltering a combined peak of more than 6 million refugees. In early 2000, 2 million Afghan refugees remained in Pakistan and about 1.4 million in Iran. Gross domestic product has fallen substantially over the past 20 years because of the loss of labor and capital and the disruption of trade and transport; severe drought added to the nation's difficulties in 1998-2000. The majority of the population continues to suffer from insufficient food, clothing, housing, and medical care. Inflation remains a serious problem throughout the country. International aid can deal with only a fraction of the humanitarian problem, let alone promote economic development. In 1999-2000, internal civil strife continued, hampering both domestic economic policies and international aid efforts. Numerical data are likely to be either unavailable or unreliable. Afghanistan was by far the largest producer of opium poppies in 2000, and narcotics trafficking is a major source of revenue.
See the following link for the "Chronology of a Crisis"
http://www.unhcr.ch/cgi-bin/texis/vtx/afghan?page=chrono
After the terrorist attack of 9/11 and the impending war against the Taliban government, there was a new exodus of refugees. However, the quick conclusion of the war has fortunately meant that a relatively small number of new refugees arrived in Pakistan between this past October and January. This number was estimated to be between 160 to 200 thousand. Anywhere else in the world, this would be considered an enormous number of refugees, but in Pakistan it is considered modest.
Mention should be made here of the role that Pakistan has played in dealing with this crisis. Pakistan itself suffers from poverty in many parts of its own country, yet it has played host to as many as 3.3 million refugees. This has naturally caused some resentment within Pakistan towards the Afghan refugees, but to its great credit, it has continue to cooperate fully with international agencies, and has also given generously from its own limited resources in dealing with this problem.
The UNHCR began a voluntary assisted repatriation program on March the 1st. Since then there have been approximately 400,000 returnees. Each returnee is given a voucher to pay for transportation costs to take them from Pakistan to their home province. The transportation is provided by local truck drivers.
Prior to their return, they are educated on the dangers of land-mines, as Afghanistan is very heavily mined. When they arrive in Afghanistan, returnees receive $100 per family. In their home provinces, they also receive a UNHCR package containing plastic sheeting, mats, blankets, stove, lamp, kitchen set and hygienic kit and 150 kilograms of wheat.
Friday 10th May: Herbert Lee; Speakers, Training & Consultants – Be a Better Performer
Friday 17th May: Club Assembly
Friday 24th May: Christian Havrehed; The Yantu Project – A Life on the Ocean Wave! (Atlantic Rowers)
Friday 31st May: Joseph Lo; SCMP – Open Skies Policy; Airways & the Right to Fly
---
WELCOMING COMMITTEES
Please arrive early if you are on the Welcoming Committee as most guests and visitors arrive at 12.30 prompt. If you are unable to attend on that day, please ensure you make arrangements for a replacement (or else face the wrath of our Sergeant at Arms and his fine box!)
10th May: Bill Benter & Chris Wong
17th May: Papu Butani & Gilbert Collins
24th May: Gary Harilela & Robert Ho
31st May: May Chan & Joseph Lee
---
NEWS – NEWS – NEWS
ROTARY NEWS

Southeast Asia Regional Overview – Surveillance & Rotary in Action
(following on from last week's article)
Indonesia achieved an aggressive surveillance rate, indicating that the health care system was monitoring the population closely and detecting a high number of suspect polio cases. Sri Lanka has also achieved a high level of surveillance since 1992.
Of highest priority in the SEAR region is the urgent development of a highly sensitive epidemiological and laboratory surveillance that meets standard performance criteria to guarantee identification of all remaining reservoirs of wild polio virus.
To date, The Rotary Foundation has committed over US$69 million to support polio eradication efforts in the Southeast Asia Region.
" Dutch Rotarians continued to support a critical laboratory in Surabaya Indonesia. The Rotary members furthered their commitment by working with the Dutch laboratory officials of Rijjksinstituut Voor Volksgezondheid en milieu (RIVM) to develop and fund a training program for the laboratory workers.
" In August 1997, an outbreak resulting in more than 200 cases of polio occurred in the Uttar Pradesh region of India. In response, a major laboratory was funded through the PolioPlus Partners program. The establishment of the laboratory should substantially assist India in monitoring transmission of the virus.
" In India, a team of 33 Rotary volunteer coordinators has been formed to assist the government and the World Health Organization (WHO) with surveillance exercises. The coordinators will work to persuade pediatricians and parents to report polio cases. They will also liaise with the local government and other concerned parties to support the work of Surveillance Medical Officers. At present, 7,500 centers throughout India support the reporting of suspected cases of polio. The WHO estimates that for surveillance to be effective in a vast country like India up to 20,000 reporting centers may be needed.
" Rotarians have played a key role in Bangladesh inspiring the government and other agencies to maintain widespread communication through mass media and interpersonal communication. Over 600,000 volunteers were involved in the immunization activity at 120,000 centers, lending significant support to the government for the National Immunization Days. Rotary members helped prepare several communication channels such as stickers, posters, TV spots, radio promotions, billboards, folk songs, floats on rickshaws and trucks, local newspapers, announcements in mosques. In addition, house to house visits, public rallies and banners were used to spread the message of immunization and to create enthusiasm for the participation in NID.
---
DISTRICT NEWS
"Walking Along with Rotary"
The Rotary Show due to be shown on 19th May, has been rescheduled by TVB and will now be shown on Sunday 9th June at the earlier time of 9.00 pm.
---
CLUB NEWS
Camp Hollywood
Don't miss this exciting night of glitz, glamour and fun!
Tickets for our Annual Fundraising Ball, "Camp Hollywood", to be held at The Football Club on Saturday 18th May, are still on sale. Priced at HK$700, they are great value for a 4-course meal, drinks all night, excellent entertainment and some great prizes – the top prize of the evening will be a trip for two to Hollywood (return flight to LA with accommodation at The LA Peninsula). Of course, whilst the Ball Committee has been working hard in their free time to put a great evening together for everyone, the evening will only be as successful as you make it. Please give it your full support to ensure that each one of the 200 seats available, are filled. And don't forget – come dressed as your favourite film star or movie character.
Those of you who have taken tickets, but not yet paid for them – please PAY UP! VP Nic is waiting for your cheques.
---
A YANTU UPDATE
I recently received an update from Christian Havrehed whom you will remember as one half of the intrepid Yantu Project team (who we sponsored) rowing the Atlantic, and who will be our guest speaker on 24th May. Thanks to the contributions they received, 19-year old Jin Zhou from Guangdong Experimental Middle School in China has been attending Atlantic College in the UK since September 2001. Atlantic College promotes international understanding and Jin Zhou has written that he is proud to be there (see below).
Dear Christian and Sun Haibin,
How are you doing? We hope everything goes well in your rowing across the Atlantic. We feel very grateful to you for doing that!
We are the three students from mainland of China in Atlantic College. One of us is called Li Zhe, is in the second year, comes from Guangzhou; the other two first-years called Jin Zhou and Maha Tiri, comes from Guangzhou and Sichuan respectively.
We are having an absolutely excellent experience in Atlantic College. We just can't imagine, before our coming, there is such an amazing school. We are enjoying ourselves in the IB course, the service program (two of us are lifeguard while the other is coastguard), the activity, and perfect opportunity to live with, to know, to understand friends from all over the world. It is the thing we have few chances to do in our motherland. On the other hand, as students from an old country which is rich in its oriental traditions, cultures, and making enormous progress in recent years, we are proud of ourselves and eager to let people from the rest of the world know about us, about our treasures of history, philosophy, wisdom, culture, and about the great change which is taking place nowadays. We try our best to lean nice things from others, and to present what we know about our country through daily life, activity, national evening and various other opportunities. We feel really grateful to the people who provide us scholarship, by which we can have such a great, completely different experience during our live.
However, as the main part of the country, which raise one fifth of the world's population, there are only three representatives in Atlantic College. How we wish we could have more youths from our motherland here, share the experience with the students from over 70 countries. It is also the reason we are absolutely moved and grateful to you when we heard that you are rowing across the Atlantic to raise money for another Chinese student to come to this marvellous college. Thanks a lot!
We wish the best of luck during the great trip and the best future!
Yours sincerely,
Li Zhi
Jin Zhou
Maha Tiri
---
THOUGHT FOR THE WEEK
A truly happy person is one who can enjoy the scenery on a detour.
---
THIS WEEK IN HISTORY
Sunday 5th May
1821 – Napoleon Bonaparte, the former French ruler who once ruled an empire that stretched across Europe, died as a British prisoner on the remote island of Saint Helena in the southern Atlantic Ocean.
1862 – During the French-Mexican War, a poorly supplied and outnumbered Mexican army under General Ignacio Zaragoza defeated a French army attempting to capture Puebla de Los Angeles, a small town in east-central Mexico. Today, Mexicans celebrate the anniversary of the Battle of Puebla as Cinco de Mayo, a national holiday in Mexico.
1961 – From Cape Canaveral, Florida, Navy Commander Alan Bartlett Shepard Jr. was launched into space aboard the Freedom 7 space capsule, becoming the first American astronaut to travel into space. The suborbital flight lasted 15 minutes and reached a height of 116 miles into the atmosphere.
Monday 6th May
1937 – The airship Hindenburg, the largest dirigible ever built and the pride of Nazi Germany, burst into flames upon touching its mooring mast in Lakehurst, New Jersey, killing 36 passengers and crewmembers.
1954 – In Oxford, England, 25-year-old medical student Roger Bannister cracked track and field's most notorious barrier: the four-minute mile.
1994 – In a ceremony presided over by England's Queen Elizabeth II and French President Francois Mitterand, a rail tunnel under the English Channel was officially opened, connecting Britain and the European mainland for the first time since the Ice Age.
Tuesday 7th May
1763 – Pontiac's Rebellion began when a confederacy of Native American warriors under Ottawa chief Pontiac attacked the British force at Detroit.
1915 – The British ocean liner Lusitania was torpedoed without warning by a German submarine off the south coast of Ireland. Within 20 minutes, the vessel sank into the Celtic Sea. Of 1,959 passengers and crew, 1,198 people were drowned.
1954 – In northwest Vietnam, Ho Chi Minh's Viet Minh forces decisively defeated the French at Dien Bien Phu, a French stronghold besieged by the Vietnamese communists for 57 days.
Wednesday 8th May
1541 – South of present-day Memphis, Tennessee, Spanish conquistador Hernando de Soto reached the Mississippi River, the first European explorer to ever do so.
1973 – On the Pine Ridge Reservation in South Dakota, armed members of the American Indian Movement (AIM) surrendered to federal authorities, ending their 71-day siege of Wounded Knee, site of the infamous massacre of 300 Sioux by the U.S. 7th Cavalry in 1890.
1984 – Citing fears for the safety of its athletes in what it considered a hostile and anti-communist environment, the Soviet government announced a boycott of the 1984 Summer Olympic Games to be held in Los Angeles, California.
Thursday 9th May
1671 – In London, Thomas Blood, an Irish adventurer better known as "Captain Blood," was captured attempting to steal the Crown Jewels from the Tower of London.
1978 – The body of former Italian prime minister Aldo Moro was found, riddled by bullets, in the back of a car in the center of Rome. He was kidnapped by Red Brigade terrorists on March 16 after a bloody shoot-out near his suburban home.
Friday 10th May
1869 – In a remote corner of Utah, the presidents of the Union Pacific and Central Pacific railroads met and drove a ceremonial last spike into a rail line that connected their railroads and made transcontinental railroad service possible for the first time in U.S. history.
1940 – Winston Churchill, First Lord of the Admiralty, was called to replace Neville Chamberlain as British prime minister following the latter's resignation after losing a confidence vote in the House of Commons.
1994 – In South Africa, Nelson Rolihlahla Mandela was sworn in as the first black president of South Africa. In his inaugural address, Mandela, who spent 27 years of his life as a political prisoner of the South African government, declared that "the time for the healing of the wounds has come."
Saturday 11th May
1812 – In London, Spencer Perceval, prime minister of Britain since 1809, was shot to death by demented businessman John Bellingham in the lobby of the House of Commons. Bellingham, who was inflamed by his failure to obtain government compensation for war debts incurred in Russia, gave himself up immediately.
1987 – Klaus Barbie, the former Nazi Gestapo chief of German-occupied Lyon, France, went on trial in Lyon more than four decades after the end of World War II. He was charged with 177 crimes against humanity.
1997 – IBM's supercomputer Deep Blue made chess history by defeating Gary Kasparov, the chess champion widely regarded as the greatest who has ever lived. The Russian master conceded defeat after 19 moves in the sixth game of the tournament, losing the match 2.5 to 3.5. It was the first defeat of a reigning world champion by a machine in tournament play.
---
DATES FOR YOUR DIARY
Saturday 18th May: Camp Hollywood – the Annual Fund Raising Ball – will be held at The Football Club in Happy Valley.
Sunday 9th June: "Walking Along with Rotary" – a locally produced documentary about Rotary in District 3450, has been rescheduled and will be shown on TVB Jade from 9.00 – 9.45 pm.
23rd – 26th June: The 93rd RI Annual Convention will be held in Barcelona, Spain.
Thursday 4th July: District Installation, Convention & Exhibition Centre, Wanchai
Saturday 7th September: Rotary Foundation Seminar, New World Renaissance Hotel
19th – 20th December: Intercity Meeting to be attended by 2002-2003 RI President Bhichai Rattakull
1st – 4th June 2003: The 94th RI Annual Convention will be held in Brisbane, Queensland, Australia
---
FROM THE BREADBASKET
One of the presentations at the recent Rotary Assembly was about a project called "Lighthouse for Literacy", so when I came across this article in the ROTI newsletter, I thought it would be a very good way to introduce you all to the concept.
Lighthouse for Literacy/Numeracy
(Submitted by Bill Morton)
Being life-long learners, most of you already are aware of the needs for education, particularly in Literacy and Numeracy, in developing countries. As Rotary International Volunteers in Kenya, Thailand and Brazil, my wife and I (both educators) observed a deep need for enhancing education in many ways, especially that of teacher training. We currently have a " Lighthouse for Literacy/Numeracy " program running in Porto Allegre, Brazil and a number of projects pending in Africa and South America.
With several colleagues in District 5030 I am developing a program that would provide a central Rotary Education Center (clearinghouse) through which we could provide educational programs via distance education (e-learning) We have several avenues such as Teachers Without Borders (TWB) http://www.unhcr.ch/cgi-bin/texis/vtx/afghan?page=chrono for developing Community Teaching and Learning Centers (local Rotary club sponsors), Operation World Education (OWE), an electronic and software system for eventually delivering via almost any kind of media. In addition, I am currently enrolled (complete May 18) in the University of Washington Certification program on Distance Learning Design and Development and nearly ready to be able to design courses for distance learning.
Since each of you ROTI members have the skills in computer technology, it might be a challenge to become involved in world-wide education via your computer and your Rotary clubs. Together we could make a big dent in illiteracy with the use of our electronic extensions, our computers. We need lots of ideas and commitment about helping to develop programs that work, and to create a network of ROTians around the world that are interested in the process.
One of the areas that needs your help is in gathering used computers, rebuilding them and sending them to places of need. We in District 5030 have a project called Computers for the World that has sent out more than 200 computers to different countries. In my own Lynnwood Rotary club, I have gathered more than 200 used computers that will be distributed in Africa and South America. In England, Grahame Leon-Smith and his program called Free Computers for Education, has sent hundreds of computers to places of need.
We need more computers to distribute to help enhance education in developing countries. If you have some ideas how we can achieve a lasting effect on illiterate peoples through our computer expertise, please contact me, Bill Morton, at res071mo@gte.net I would very much welcome your comments.
---
AND FINALLY ….
Excerpts From A Dog's Diary
Day number 180
8:00 am – OH BOY! DOG FOOD! MY FAVORITE!
9:30 am – OH BOY! A CAR RIDE! MY FAVORITE!
9:40 am – OH BOY! A WALK! MY FAVORITE!
10:30 am – OH BOY! A CAR RIDE! MY FAVORITE!
11:30 am – OH BOY! DOG FOOD! MY FAVORITE!
1:00 pm – OH BOY! THE YARD! MY FAVORITE!
4:00 pm – OH BOY! THE KIDS! MY FAVORITE!
5:00 PM – OH BOY! DOG FOOD! MY FAVORITE!
5:30 PM – OH BOY! MOM! MY FAVORITE!
Day number 181
8:00 am – OH BOY! DOG FOOD! MY FAVORITE!
9:30 am – OH BOY! A CAR RIDE! MY FAVORITE!
9:40 am – OH BOY! A WALK! MY FAVORITE!
10:30 am – OH BOY! A CAR RIDE! MY FAVORITE!
11:30 am – OH BOY! DOG FOOD! MY FAVORITE!
1:00 pm – OH BOY! THE YARD! MY FAVORITE!
4:00 pm – OH BOY! THE KIDS! MY FAVORITE!
5:00 PM – OH BOY! DOG FOOD! MY FAVORITE!
5:30 PM – OH BOY! MOM! MY FAVORITE!
Day number 182
8:00 am – OH BOY! DOG FOOD! MY FAVORITE!
9:30 am – OH BOY! A CAR RIDE! MY FAVORITE!
9:40 am – OH BOY! A WALK! MY FAVORITE!
10:30 am – OH BOY! A CAR RIDE! MY FAVORITE!
11:30 am – OH BOY! DOG FOOD! MY FAVORITE!
1:00 pm – OH BOY! THE YARD! MY FAVORITE!
1:30 pm – ooooooo. bath. bummer.
4:00 pm – OH BOY! THE KIDS! MY FAVORITE!
5:00 PM – OH BOY! DOG FOOD! MY FAVORITE!
5:30 PM – OH BOY! MOM! MY FAVORITE!