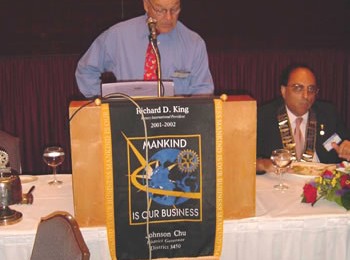 Volume 02 Issue 45
Dear Fellow Rotarians,
I missed you all last week as I was off talking to the Rotary Club of Admiralty. However, PP Bruce kindly agreed to take over the reporting of the meeting. As you know, I become Club Secretary at the beginning of July and so from then on, The Sampan will become a joint venture between PP Bruce and myself. We hope you will continue to read and enjoy.
Till next week …
Yours in Rotary,
Rotarian Nicole Burt
---
Acting Hon Sec PP MS Kalra introduced visiting Rotarian PE Gary Purswani of Tsim Sha Tsui East.
Acting SAA VP Nic reported a good charity collection in the box totaling some $640 plus loose change courtesy of Rtn Ian.
President Ramesh reminded members of the Camp Quality day trip coming up on Saturday 15th June.
VP Nic introduced the speaker, Tony Sham, General Manager of Abacus Distribution Systems, whose subject was "The Evolution of Travel".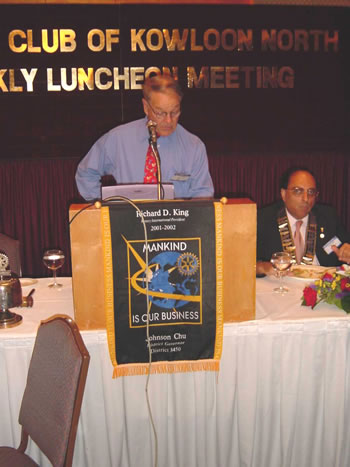 VP Nic introduces our guest speaker
Mr Sham began by explaining what his company does. Abacus is a global distribution system, providing a bridge between travel agents and travel suppliers. In latter times internet portals have become an important part of the mode of supply of travel services.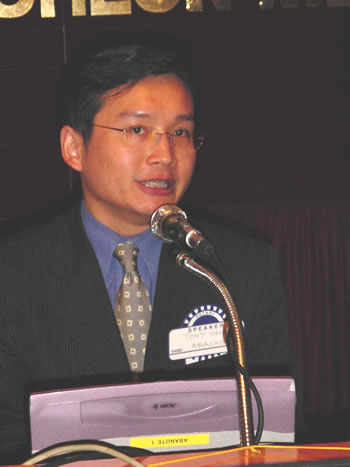 Mr Tony Sham talks on "The Evolution of Travel"
The vision of the company is to be the number one facilitator for the travel and leisure industry.
Abacus was formed in 1988 and now has its head office in Singapore. 70-80 percent of Asian travel agents use Abacus. 11 airlines hold 65 per cent of the shares and Sabre, the largest global distribution system in the United States, holds the remaining 35 per cent The Abacus reservation system is recognized by the industry as the best.
Mr Sham went on to outline the way travel has evolved, especially in the relation to the provision of various services. Customer knowledge has become more extensive and much more information is now available through the internet.
In the United States US$18-billion worth of travel business is now done online each year and 51 per cent of online travel shoppers come from small towns. These travel consumers are extremely price sensitive and exhibit little loyalty to any one site.
The growth of online sales in Asia has been disappointing mainly due to uncertainties created by the policies of various governments and the lack of a universal language in the region.
Mr Sham used a graph showing the changes in the booking habits of consumers over the past few years to make the point that online booking will not kill conventional travel agency business overnight but those agents need to be especially vigilant.
Rtn Ian thanked the speaker and President Ramesh closed the meeting with a toast to Rotary International and the Rotary Club of Tsim Sha Tsui East.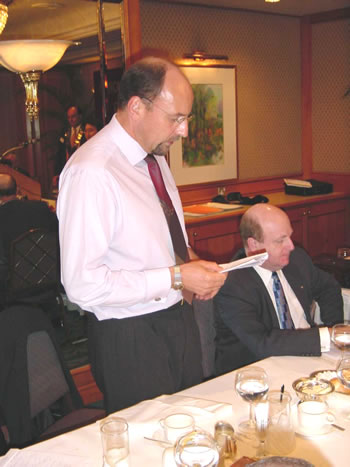 Rtn Ian thanks the speaker
---
SPEAKERS THIS MONTH
Friday 14th June: Sally Begbie; Crossroads – Who are Crossroads
Friday 21st June: Cliff Duddle; Legal Correspondent, SCMP – Legal Issues
Friday 28th June: Dr Santos; – Suitable Diets
---
WELCOMING COMMITTEES
Please arrive early if you are on the Welcoming Committee as most guests and visitors arrive at 12.30 prompt. If you are unable to attend on that day, please ensure you make arrangements for a replacement (or else face the wrath of our Sergeant at Arms and his fine box!)
14th Jun: Ian Petersen & Daniel Hackston
21st Jun: Nigel Montague & Frank Kleintech
28th Jun: Tommy Tam & Susan Young
---
NEWS – NEWS – NEWS
ROTARY NEWS
ROTARY RECOGNIZES U.S. LEADERS AS "CHAMPIONS" OF POLIO WAR
Rotary International on 15 May presented key members of the United States Congress with the Polio Eradication Champion Award for their ongoing support of the initiative. In fiscal year 2002, Congress appropriated US$129.9 million to the global polio eradication effort.
"I am proud to honor members of Congress who have fought hard and gained funding for the monumental task of ridding the earth of this crippling disease," said Rotary Foundation Trustee Chairman Luis Vicente Giay as he urged Congressional leaders to stay the course during the final and most difficult stage of the initiative. "While the dream of a polio-free world is in sight, the last big push still lies ahead. US leadership is crucial to ensure the threshold of victory is crossed."
Since 1988, the number of polio cases has decreased from 350,000 to 494 in 2001, representing a 99.8 percent reduction. The polio virus now circulates in no more than 10 countries in South Asia and sub-Saharan Africa, down from 20 in 2000 and 125 in 1988.
In spite of this success, the final phase of the Global Polio Eradication Initiative is proving to be the most challenging. Reaching all children, including those in high-density populations and in areas of civil unrest, maintaining political commitment in the face of a disappearing disease, and most critically, closing a $275 million funding gap are the major obstacles that must be overcome. To help meet this funding challenge, Rotary is embarking on its second membership fundraising drive with the goal of raising $80 million for polio eradication.
---
DISTRICT NEWS
The "Hepatitis B Immunization for Newborn Babies" project is a major project being undertaken by Rotary International District 3450 in Mainland China. Launched on 31st May 2002, the initial goal of the project is to immunize 1 million new born babies within 10 years.
The Hepatitis B virus infection is highly endemic. Its dire consequence of cirrhosis and liver cancer are health problems of the most serious nature and its control is vital for a healthy China. The issue is also important to world health as over 1/3 of the world's Hep B carriers are in China. Statistically, of China's population of 1.3 billion, 128 million, i.e. some 10%, are Hep B carriers. An estimated 280,000 persons die each year in China owing to Hep B related diseases. With polio having been completely eradicated in China, the Ministry of Health has placed Hep B prevention and control among its top public health priority.
Hep B vaccination plays a key role in prevention, especially in reducing the prevalence of chronic Hep B virus infection. China's goal is to reduce the carrier rate among the general population to 1% after two generations, mainly by means of extensive Hep B vaccination. Considerable work is to be done. Immunization is not, however, provided entirely free of charge. The need to pay for the cost of vaccine, distribution and service fee very often has a negative effect on vaccination coverage which is much lower in th poor and remote provinces.
The Project will be using Hep B vaccine commercially available in China. The "all-in" cost for each 3-dose series is in the order of US$3.50. China is working with many international partners for the purpose of Hep B immunization which include WHO, UNICEF, World Bank and GAVI (Global Alliance for Vaccination & Immunization). China, however, is a huge country, and no single agency can do it alone. Our Hep B Project will complement on-going activities. In so doing, we are helping China to fully integrate Hep B vaccination into its Expanded Programme on Immunization. In addition to the Ministry of Health, we are enjoying the staunch support of Ministry of Civil Affairs, All China Youth Federation & Chinese Foundation for Hepatitis Prevention and Control.
Click here: http://www.rotary3450.org/service/hepb/ for more valuable information.
---
THE WEEKLY ABC's OF ROTARY
INTERNATIONAL CONVENTIONS
Each May or June, Rotary International holds a worldwide convention "to stimulate, inspire and inform all Rotarians at an international level." The convention, which may not be held in the same country for more than two consecutive years, is the annual meeting to conduct the business of the association. The planning process usually begins about four or five years in advance.
Future RI conventions are scheduled for Barcelona, Spain, in 2002, Brisbane, Australia, in 2003, Osaka, Japan, in 2004 and Chicago, U.S.A., in 2005. The RI board determines a general location and invites cities to make proposals. The conventions are truly international events which 15,000 to 20,000 Rotarians and guests attend. All members should plan to participate in a Rotary International convention to discover the real internationality of Rotary. It is an experience you'll never forget.
---
THOUGHT FOR THE WEEK
Every man is a damn fool for at least five minutes every day; wisdom consists of not exceeding the limit.
– Elbert Hubbard
---
THIS WEEK IN HISTORY
Sunday 9th June
68 A.D. – Roman Emperor Nero committed suicide.
1910 – A passenger on the SS Arawatta threw a bottle with a note overboard . It was found on 6th June 1983 in Queensland, Australia.
1985 – Thomas Sutherland, an American educator, was kidnapped in Lebanon. He was not released until November 1991.
Monday 10th June
1692 – In Salem Village in the Massachusetts Bay Colony, Bridget Bishop, the first colonist to be tried in the Salem witch trials, was hanged after being found guilty of the practice of witchcraft.
1935 – In New York City, two recovering alcoholics – William G Wilson, a New York broker and Dr Robert Smith, an Ohio physician – founded Alcoholics Anonymous.
1948 – "The Right Stuff" test pilot Chuck Yeager, exceeded the speed of sound in the Bell XS-1.
Tuesday 11th June
1509 – King Henry VIII of England married Catherine of Aragón, the first of his six wives. When Catherine failed to produce a male heir, Henry divorced her against the will of the Roman Catholic Church, thus precipitating the Protestant Reformation in England.
1770 – Captain James Cook discovered the Great Barrier Reef off of Australia when he ran aground on it.
1991 – Mount Pinatubo in the Philippines erupted. The eruption of ash and gas could be seen for more than 60 miles.
Wednesday 12th June
1099 – Crusade leaders visited the Mount of Olives where they met a hermit who urged them to mount an assault on Jerusalem.
1898 – During the Spanish-American War, Filipino rebels led by Emilio Aguinaldo proclaimed the independence of the Philippines after 300 years of Spanish rule.
1975 – Indira Gandhi, the prime minister of India, was found guilty of electoral corruption in her successful 1971 campaign. Despite calls for her resignation, Gandhi refused to give up India's top office and later declared martial law in the country when public demonstrations threatened to topple her administration.
Thursday 13th June
323 B.C. – Alexander the Great, the young Macedonian military genius who forged an empire stretching from the eastern Mediterranean to India, fell sick after a prolonged banquet and drinking bout and died in Babylon, in present-day Iraq, at the age of 33.
1381 – The Peasant's Revolt, led by Wat Tyler, climaxed when rebels marched on London. They plundered, burned and captured the Tower of London and killed the Archbishop of Canterbury. The revolt was in response to a statute intended to hold down wages during a labor shortage.
1983 – After more than a decade in space, Pioneer 10, the world's first outer-planetary probe, left the solar system. The next day, it radioed back its first scientific data on interstellar space.
Friday 14th June
1789 – English Captain William Bligh and 18 others, cast adrift from the HMS Bounty seven weeks before, reached Timor in the East Indies after traveling nearly 4,000 miles in a small, open boat.
1864 – Alois Alzheimer was born. He was a psychiatrist/pathologist, and in 1907 he wrote an article describing the disease that is named for him.
1982 – After suffering through six weeks of military defeats against Britain's armed forces, Argentina surrendered to Great Britain, ending the Falkland Islands War.
Saturday 15th June
1215 – Following a revolt by the English nobility against his rule, King John puts his royal seal on the Magna Carta, or "Great Charter." Although more a reactionary than a progressive document in its day, the Magna Carta was seen as a cornerstone in the development of democratic England by later generations.
1752 – Benjamin Franklin experimented by flying a kite during a thunderstorm. The result was a little spark that showed the relationship between lightning and electricity.
1978 – King Hussein of Jordan married 26-year-old American Lisa Halaby, who became Queen Noor.
---
DATES FOR YOUR DIARY
23rd – 26th June: The 93rd RI Annual Convention will be held in Barcelona, Spain.
Thursday 4th July: The District Installation will be held at The Convention & Exhibition Centre in Wanchai. Rotarians from District 3830 (Makati, Philippines) will also be attending to officially renew the agreement between our two Districts.
9th – 11th August: President Bhichai Rattakul's Presidential Conference of Peace and Development, will be held at the Renaissance Kuala Lumpur Hotel, Malaysia. The main themes will be: Peace and conflict resolution and the Rotary Centers for International Studies. Other topics will include a Project Partnering Fair and polio updates.
Saturday 7th September: Rotary Foundation Seminar, New World Renaissance Hotel
19th – 20th December: Intercity Meeting to be attended by 2002-2003 RI President Bhichai Rattakul.
1st – 4th June 2003: The 94th RI Annual Convention will be held in Brisbane, Queensland, Australia
---
FROM THE BREADBASKET
FAMILY MATTERS
(Hugh Reid)
Doesn't it feel good to be working as an organization for the betterment of mankind? For mankind is our business. We have the weight of a huge organization, which is helping to change the world, behind us. We are Rotarians, a group of business and professional people, united worldwide, in our efforts to build understanding and goodwill in the world and maybe bring peace.
We have nearly beaten polio. We send 12,000 students each year to study in other countries. We send many Group Study Exchange teams out each year. Young people who return to their homes, enthused and fired up for change . We hold careers days for students. We build play parks. We clean up community streets, and rivers. We travel to exotic places to attend International Conventions. We spend endless hours, on our computers, reading mail from friends, and trying to digest the amazing work which so many do for their communities. We give advice to those who ask our help. We "talk" for hours to other Rotarians. We are making a difference.
MEANWHILE.
What is happening in our own homes?
Are we so busy trying to create peace and understanding, and bring peace to the world? that we fail to notice the things, which are happening in our own homes. Are our spouses being left out in the cold? To fret and pine away, left unnoticed. No one to talk to. To come into the computer room to see if we are still alive, just to have someone to talk to, to be coldshouldered, because we are in the midst of some important piece of communication.
The understanding and peace in our own homes is fast disappearing, as we seek to spread it elsewhere.
This is WAKEUP call.
Be careful. Love begins at home. Do not let our involvement with good works, be such that we lose the things which should matter most. Our families.
---
AND FINALLY ….
SC – OOPS!
Following the scandal at a north London (England) hospital, which employed a cleaner with TB, undercover reporter Paul McMullan, from tabloid Sunday paper the News of the World, applied for a job at the hospital and was taken on without any hygiene or health checks. "Great scoop!" he thought. On his first day at work, he was teamed up with a hospital porter who had joined a few days earlier and was to show him the ropes. Alas, the porter turned out to be . . . another undercover reporter from rival Sunday tabloid the Sunday Mirror.
The MetroWest Daily News, a Boston Herald satellite, revised its photo account of a 4-year-old girl's two-headed toad. A biologist who got that edition called in to say it was two toads in the act of mating.