Volume 09 Issue 08
Dear Fellow Rotarians,
the new Rotary Year 2009-2010 has begun, the period of gleeful anticipation regarding IPE Tibor is over: he had to prove his metal today by embarking on some of the most Rotarian Ceremonies of them all, the induction of a new member and deciding on the next month's luncheon menue. Actually, today's luncheon was so packed with events that the 3 receiving members of a Paul Harris Fellowship, PP Gilbert, PP Howard (in absence) and Rotarian Emba agreed to postpone their ceremony to another day in order to give PP Maureen suitable time to bring a Malaria Aid Project to our attention – to summarize: yet another  luncheon with not a minute wasted to boredom!
The new Sampan has 3 Sections:
Induction of Miss Nancy Leung (梁寶儀) as a new member of RCKN
Lunch Meeting – 9th July 2009 PP Maureen Boost: Adopt a Village, Count Out Malaria!
Four Announcements (in case you didn't listen, please read!)
Yours in Rotary,
Sampan Vice Editor
1. Induction of Miss Nancy Leung (梁寶儀) as a new member of RCKN
Well well – it had begun quite innocently with a proposition made by fellow Rotarian Tommy Tam, and it seemed to turn into a Maronite Catholic Wedding Ceremony for "Solicitor" Nancy Leung today, including a fierce and somewhat makeshift reading from the Induction Ceremonies Manual section One and Four and everything but the kitchen sink (no kissing, and, more surprisingly perhaps, no pinning of the new Rotary batch into the new Rotary club-member, for even though the President had dutifully unwrapt the batch from its cellophane, his hands shook violently from too much emotion and strained breathing during the sermon and he wouldn't dare to take the risk of hurting anyone from the litigateous society or killing RCKN's chances in the membership goal of at least one new member to succeed in the Presidential Citation Programm).
| | |
| --- | --- |
| | |
                                                                                                                                
Nancy LEUNG Bo Yee, whose name quite fittingly means "precious gift" (for its most famous pronounciation double/click on the link right to the picture), was admitted as a Solicitor in HKSAR and England & Wales and holds an LLB (HKU) and LLM (Cantab).  She practices under the firm Nancy Leung & Lau and is a Committee Member of the Law Society PI Committee as well as a Civil Celebrant, so she knows something about weddings.
Tommy, seen above chaperoning his ward through the induction act, knew Nancy through her association with the Hong Kong Football Club Horse Racing Syndicate, recommending her, amongst other virtues, for being very active in horse racing, golfing and outdoor activities – this last quality already checked to be true by the club members in our recent outing to the famous pigeon restaurant on Lama Island.
With Nancy classified as Solicitor", RCKN is glad to grow its legal department, where we already boast PP Gilbert as "Legal" (is he?) and mild-mannered Rotarian Emba as Litigation" – in a world like this, you can never have to few of them around: A very warm welcome to our new member – Rotarian Nancy.
2. Lunch Meeting – 9th July 2009 PP Maureen Boost: Adopt a Village in PNG, Count Out Malaria
Our Speaker today was indefatigable Poly-U Professor and fellow Rotarian PP Maureen who introduced us to a new trouble spot of the world: Papua New Guinea.
PNG in the southwestern Pacific Ocean consists of 7500 villages scattered about 20 provinces – about 6 mio people speak in over 850 indigenous languages and live in at least as many traditional societies in an area slightly biger than California. However, the Papuans in all their diversity have one common denominator – the unmitigated threat of Malaria.

Now – Rotarians, as we know, are very diversified as well under (Nancy, did you listen?) the common deno­mi­nator of service above self. And one of these, besides the well known one of being against Polio, is that Rotary is against Malaria. Totally!
Each year, there are approximately 350–500 million cases of malaria, killing between one and three million people, the majority of whom are young children. While commonly associated with poverty, Malaria is also a cause of poverty and a major hindrance to economic develop­ment. Usually, people get Malaria by being bitten by an infective Anopheles mosquito. Mala­ria infections are treated through the use of antimalarial drugs (such as quinine or artemisinin derivatives). However, parasites have evolved to be resistant to many of these drugs. There­fore, in some areas of the world, only a few drugs remain as effective treatments for malaria and these are often too expensive for most people living in endemic areas.
In January 1997 Rotarians from Rotary Club of Port Moresby (RCPOM) discussed the inabi­li­ty of the National Department of Health (NDoH) to deliver treated mosquito nets to areas with  highly endemic malaria of Papua New Guinea. At the time NDoH was procuring 5 -10,000 mosquito nets and sending them the provinces to be sold the nets for a nominal amount (Normally $ 5.00 per net). The proceeds from these sales however went into "Con­solidated Revenue" and when new nets were needed after about 5 years – the funds had been spent on anything else and were not available for new nets any more. Subsequently, the pro­gramme dried up.
RCPOM approached the Secretary of Health to allow them to take over the procurement of nets on behalf of the government of Papua New Guinea (GoPNG). RCPOM then approached the Australian Government Aid Department (Ausaid) and asked them to donate 150,000 mos­quito nets to the programme. And these amiable Australians agreed: Rotary Against Malaria (RAM) was born. Ausaid agreed RAM could sell the mosquito nets for their landed cost and that RAM would retain these funds to be used for the ongoing procurement of nets.
However, even with this level of coverage RAM was not making major inroads into the mor­bi­dity and mortality of the disease. It soon became clear that unless complete districts recei­ved mosquito nets for all of the population of that district, no real impact was going to be felt. And so RAM embarked on the "Adopt a Village" programme.
Calling upon their fellow Rotarians, RAM got more than 1000 villages to be adopted by Rotary Clubs mainly from Australian Clubs and a sprinkling of clubs from the US and England.
PP Maureen provided us with some examples regarding the costs of such an adoption: a big village with a population of, say, about 1936 would require 775 bed-nets at an accumulated cost of US$: 4,194.30 or $HK 40,000; a comparatively small one of, say, about 652 people would require 260 bed-nets for US$: 1,407.12 or HK$ 11,000 – we felt a certain unease at the apparant mismatch of bed-nets and people to be covered by them, but Maureen intermediated on behalf of her charges, explaining that it was a specific feature of the Papuan mentality to sleep in teams of three, and when in Rome, what can you do…
To adopt a village, any club can go onto the RAM website at www.ram.com.pg, locate a vil­lage that it wants to adopt, have RAM PNG confirm the adoption and enter the club's name against its list of villages. The adopting Rotary Club then sends their money to PDG Rich­mond Manyweathers in Sydney, Australia, where it is held in custody and deploied when needed. In return, an adoption package is prepared and sent via Air Mail to the adopting club along with a frameable certificate, information on the subject village and information on the programme.
Fellow Rotarian Steve Lam then extended heartfelt thanks to our speaker and supported her plea for RCKN to look into such an adoption. Steve had once come across some farmers in Beijing who where providing extracts of the plant Artemisia annua, the only herbal antima­larial drug treatment. Unfortunately, Malaria parasites can develop resistance to artemisinin. So while he, Steve, was usually more a man for attacking problem's by the root, we all understood that a disease of such complexity has, as long as there is no workable remedy, to be approached one step at a time: providing bed-nets seems a very small step to take if it translates into such a big step for a whole village.
3. Four Announcements
Following the towering example of IPP David Wright, present President Tibor had actually bothered to prepare an array of forthcomming events – not, mind, trying to apprise everyone of the 30 to 40 Rotary events available for attendance and participation over the next week, but offering a select choice of unmissable happenings! However, as not a single person paid any attention at all, please find the Announcements as made here below in writing:
1. Saturday 11th of July 2009
Rotary International District 3450 Installation
Well okay, this happened and is over and was a deft little ceremony conducted in the Grand Ballroom of the Grand Hyatt. Thanks to the 10 Members who joined and thanks to those who supported by email.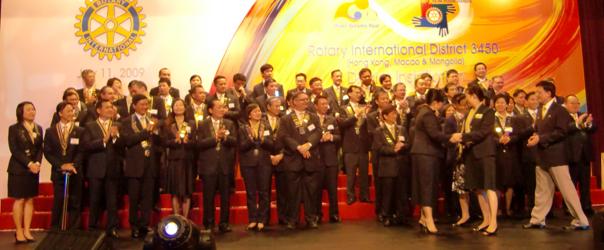 2. Thursday 16th of August 2009
Board Meeting of RCKN
The meeting will start at the Foreign Correspondant's Club at 6:30 and end with a fellowship dinner there. Board Meeting Minutes have been sent out by our Honorable Secretary PE Bob Lloyd on 29 Apr 09 on July 7th
3. Friday 7th of August 2009
Intercity Meeting in Honour of RI President John Kenny

Date:               7 August 2009 (Friday)
Time:               6:30pm for 7:15pm till 10:30pm
Venue:             Ball Room, Holiday Inn Golden Mile, Hong Kong  
Dinner fee:      HK$590.00 net per person excluding drinks
Rainy Ma of the Rotary Information Centre informed that Rotary International President John Kenny will be visiting Hong Kong from 6 to 10 August 2009.  An InterCity Meeting will be organized to honour his official visit.  This is an excellent opportunity for all District 3450 Rotarians and friends to hear the thoughts of the current RI President who of course is the key-note speaker for the evening.  Please don't miss this chance to meet the RI President in person.
To show our usual hospitality, we would urge you to promote this event in your Club and encourage your Club members to register early.  If possible, we would ask you to move your regular Club Meeting for that week to this important dinner event.
A reply is needed before 15 July, 2009 (Wednesday) by email: ric@rotary3450.org or by fax: 2895 5926.
4. Saturday 8th of August 2009
Joint-university Rotaract Club Installation Ceremony 2009
The Rotaract Club of Lingnan University Students' Union and the Rotaract Club of Hong Kong Baptist University jointly organiz the Joint-university Rotaract Club Installation Ceremony 2009, which is to be held at Hong Kong Baptist University on 8th August 2009.
RCKN is invited you to come to the ceremony and to witness the office bearers of their Executive Committees taking their oath of office. A formal invitation letter, which will include the details of the ceremony, will be sent out soon.  
For any enquiries, please contact our President Elect, Minian Cheung, at cwhy643@hotmail.com <mailto:cwhy643@hotmail.com> or our Incoming Internal Vice President, Zoe Yu, at yitak_jellykid@hotmail.com <mailto:yitak_jellykid@hotmail.com> .
Last and least and as at work almost, when everybody does their best and the boss feels uncomfortable about his contribution, President Tibor proudly surprised the revelling crowd with closing the meeting with an unheard of punctuality at 2 pm sharp (according to his watch). This, note, was not his revenge for not being humored during the announcements but might be due to his Germanic background…
That's it for today, folks – we again couldn't cover everything that went on but will keep trying – soon:
YIR
Sampan