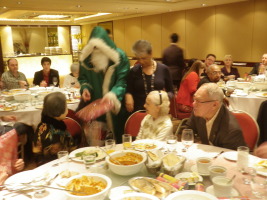 Volume 12 Issue 02
Dear Fellow Rotarians,
Weekly Lunch meetings in December 2012 have been of considerable interest.
On the 7th December 2012 President Istvan inducted our latest Member.  He brings RCKN Member's average age down to a more reasonable level.
Congratulations!
___________________________________________________________
On Friday, 14th December 2012, we entertained Residents from the China Coast Community to a Christmas Lunch at the Holiday Inn Golden Mile.Santa, in his original garments, duly performed the present giving.  Lunch consisted of an Indian cuisine that was much appreciated.