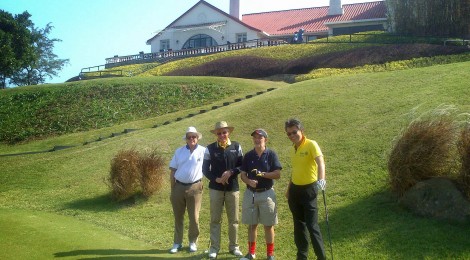 Volume 13 Issue 07
Dear Fellow Rotarians,
China Coast Community Fundraising Golf Tournament
As I was part of our 2 Golf-Teams in support of the China Coast Community Fundraising Tournament. PP Ramesh took over as acting president and Susanne was so kind and prepared the minutes.
Visiting Rotarians and guests
We welcomed Ms. Elizabeth Garrard of RC Toowong in Brisbane, Australia and her mother Margaret. Elizabeth is studying medicine and is aiming to go into a four-year surgeon training. RC Toowong is engaged in several projects for example a shelter project in Papua New Guinea, aid for thyphoon victims in the Phillipines and helping homeless people in the Brisbane area.
The HUB visit on Saturday 7th
Together with PP Angela, daughter Ashley, Alice, Alvina and some friends that Angela braught along, we visited Vancy and her team at THE HUB.
This time we also had the opportunity to visit 2 families in the area.Their kids are regular visitors at THE HUB. We could see first hand how difficult their living conditions are and how extremely small their flats are. We were a bit speechless and touched spending some time with them in their limited spaces. It was an important experience for all of us and shows again how important THE HUB and our support is, to help these children improve their start conditions for a better life.
Club Christmas Party at Royal Hong Kong Yacht Club
In strong contrast to our afteroon visit at Sham Shui Po that day we could all enjoy an evening of luxury and great entertainment.
Those of you who could not join, missed a phantastic Christmas Party with IPP Istvan as Santa Claus himself. The Wardroom of the RHKYC was nicely decorated , christmas songs accompanied us through the evening. A typical and delicious Christmas -Dinner, good wines and plenty of presents made this evening complete.
Even I was not aware about the great enteraining talents of some of our members which we all enjoyed that evening.
Enjoy a good start into the new week and hope to see you coming friday.
YIR,
Rainer