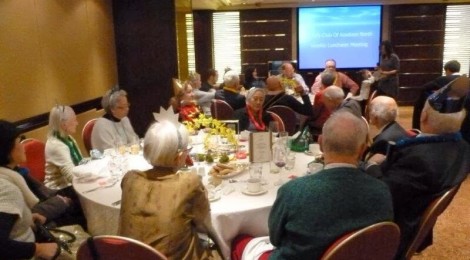 Volume 13 Issue 08
Dear Fellow Rotarians,
here are the minutes of last Friday as there is no meeting today.
Visiting Rotarians: Mrs. Ilke Vowinkel of RC Tower Hamlets, London
Guests:
Gary Cheung of SinoPac Securities
Gilbert´s wife Jane
Jasmine
Joanna & Matthew
David´s wife Mary
Candice
Members of China Coast Community
Special Appearances
Anders Nelsson as our Entertainer
PP Nic Robinson as Father Christmas
Acting president: PP Ian Petersen
Last Friday we had a very enjoyable Christmas Party together with the China Coast Community who joined us with 9 guests. Anders Nelsson was a great entertainer spanning Christmas songs from Sweden to America. Very special thanks to PP Gilbert, who arranged his visit and organised the Christmas Party for the CCC. Also very special thanks to PP Nic as a funny Father Christmas (arriving in a wheelchair, spreading his usual happy spirits to all the guests and presenting the gifts to the members of CCC . PP Angela´s daughter was the youngest participant and gave us an impression of her wonderful singing.
Response code is 404
I hope you all enjoyed a Merry Christmas and wish you a very happy new year 2014!
YIR
Rainer Jungjohann