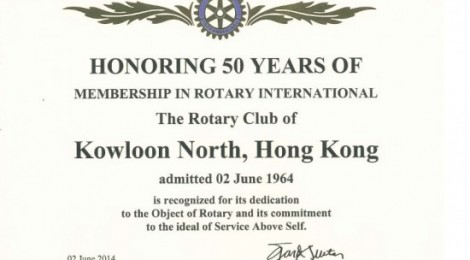 Volume 14 Issue 02
50 Years Rotary Club of Kowloon North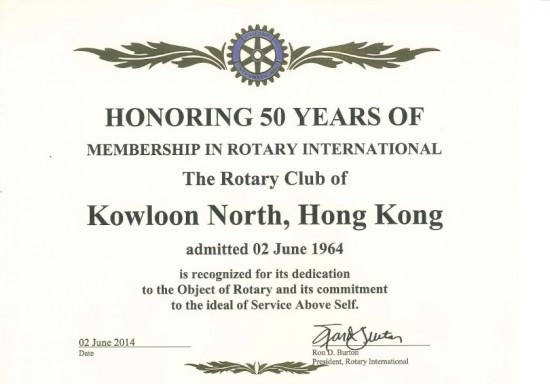 Welcome by President Rainer
Dear Fellow Rotariens, Visitors & Friends,
The Rotary Club of Kowloon North was chartered on 2nd June 1964 under the RI Presidency of Carl P. Miller.  The Rotary theme that year was: "Meeting Rotary's Challenge in the Space Age".  Since then our Club has supported many needy people, not in space but here on Earth, in numerous projects in Hong Kong, China, Asia and Africa.
Some of our signature projects today include: THE HUB , a children shelter here in Hong Kong; the Vision Screening of children and students in Guangxi Province in Southern China; and the Drinking Water Projects on our agenda for projects in Myanmar, where Rotary has just been re-established after 50 years.  Our Club is deeply involved in many projects here in Hong Kong and, together with other Clubs in our Area, we are supporting the "Dreams Come True" project, giving a helping hand to young adults developing their talents and potentials.
This year's theme of our RI President, Ron Burton, has been: Engage Rotary- Change Lives – a good motto for all of us and a permanent challenge to live up to.
Rotary is based, as it always has been, on our core values: service, fellowship, diversity, integrity and leadership.  These are the values that define us as Rotarians; they are the values we live by, and the values we strive to bring to the communities that we serve.
I am still a "Newcomer" to Hong Kong and as President, I have experienced fantastic support from our Club, the Rotary Clubs in our Area and the District.
Let me thank  all who attended our 50th Anniversary Celebrations and for supporting our community projects so generously.
Yours sincerely
Rainer Jungjohann-Ott
President 2013-2014
Rotary Club of  Kowloon-North