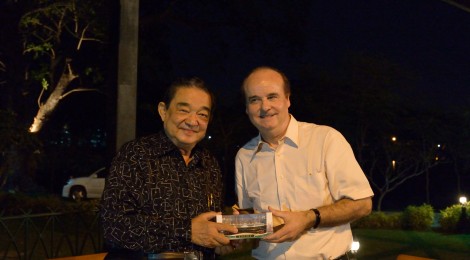 Volume 15 Issue 01
1st Myanmar Vision Screening Trip of RCKN, 28th Feb to 5th March 2015
Our team of 18 met at HK airport around 09,00 pm to reach the flight at 22.15 pm arriving at 00.15 am in Yangon
1,5 hours time difference
A team of RC Yangon was already waiting at the arrival hall and guided us with several mini busses to our Hotel.
We enjoyed sunny and tropical climate with themperatures around 36 C. At the end we had screened almost 400 Kids, Students, Monchs and Nunns
during this first trip to Myanmar. A great experience and very successful first joint project bewteen RCKN and RCY.
Sunday 1st March
Sightseeing Tour in Yangon with highlight of Swedagon Pagoda. IPP Rainer hosted a dinner at a nice
local garden restaurant, located at the Royal Lake for the team and members of RC Yangon.
Monday 2nd March
Start at 08.00 am from Hotel to visit Thaddama Yawtika Yone Showegyin Monastic School
VS of 112- Students and some monchs
11 Spectacles , 1 referral for cataract surgery
Tuesday 3rd March
Start again at 08.00 am from Hotel to Withakha Orphanage that David Boehm and his wife Mie Mie are supporting for many years
VS of 124 Students ,teachers and nuns
9 Spectacles
Evening Dinner Reception at David Boehms House. His wif Mie Mie had prepared a wonderful local dinner and we all enjoyed the evening
outside with geat food and drinks together with other members of RC Yangon
Wednesday 4th March
Start at 08.00 am from Hotel to Thanti Thukka Nunnery School
VS of 155 Students, teachers and nuns
15 Spectacles ( 6 Kids, 9 teachers )
16 had to be screened again because of convergence problems at near sight
As we returned to the hotel each day at mid afternoon, the team members had enough time to discover Yangon.
RC Yangon had prepared everything very well and joined our daily trips with president Aye Lwin, members and translators
A very successful, 1st joint project between RCKN and RCY
Response code is 404