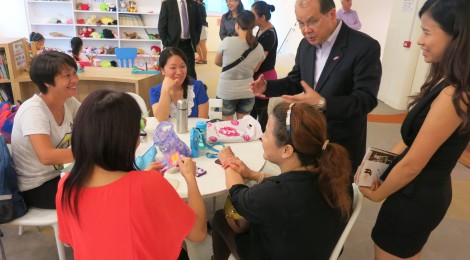 Volume 15 Issue 02
The Secretary for Labour and Welfare, Mr Matthew Cheung Kin-chung, visited the Hub Hong Kong in Sham Shui Po this afternoon (September 4) to see for himself the various support services provided by the centre for underpriviledged children and their families.
Received by the Chairman and Vice-Chairman cum Co-Founders of the Centre, Mr David Boehm and Mr Bruce Stinson, Mr Cheung was first briefed on the background, operation and services of the Hub Hong Kong.
Established in association with the Rotary Club of Kowloon North in 2013, the centre provides support services including after-school support, personal guidance and counselling, and mentorship programmes. Furthermore, it provides a wide range of development services and various recreational and socialisation programmes aimed at offering disadvantaged children an equal opportunity to become valuable and contributing members of the community.
Noting that it is a policy objective of the Hong Kong Special Administrative Region to encourage the business sector to fulfil its corporate social responsibility for building a cohesive, harmonious and caring society, Mr Cheung paid tribute to the good work of the Hub Hong Kong.
"To promote tripartite co-operation in helping the needy and disadvantaged, the Government injected an additional $400 million into the Social Welfare Department's Partnership Fund for the Disadvantaged (PFD) earlier this year. Of this sum, $200 million is dedicated for launching more after-school learning and support projects for primary and secondary students from grassroots families to facilitate their whole-person development.
"I am glad that the dedicated fund scheme has been greeted with an overwhelming response, with a total of 89 projects involving over $50 million in donations pledged for this school year. These will benefit some 20 000 primary and secondary school students. As some of the after-school learning and support projects operate until the early evening, we estimate that parents of some 1 500 grassroots families will be able to stay in employment or join the workforce.
"This would result in a win-win situation. Whilst the children are well looked after through such meaningful value-added  projects, their parents can concentrate and work, thereby augmenting the family income and enhancing Hong Kong's overall economic productivity," Mr Cheung added.
Mr Cheung was also glad to learn that with a matching fund under the PFD, the Hub Hong Kong would start a new two-year project to provide a wide range of weekend interest classes and visits for the children.
Response code is 404