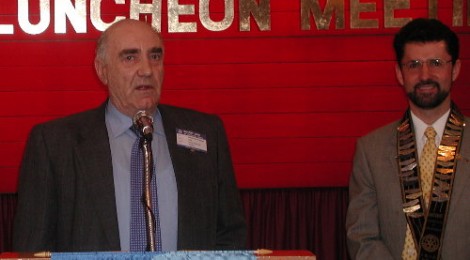 Volume 01 Issue 05
Dear Fellow Rotarians,
Just for fun I have put up the original Sampan image. As Past President Steve explained, this version was only in use for a very brief period during 1982.
Various groups of Rotarians made visits to Uncle George this past week, and I am happy to report that he is feeling somewhat better.
"Service Above Self"
I had a small shock this morning when I saw a message on my desk that Uncle George's secretary had phoned. I called her back immediately only to be relieved to find out that she had some documents for me. Apparently on my last visit to the hospital, I had accidentally left behind a pile of papers, and the always well-organized and considerate Uncle George had instructed his secretary to return them to me. Even with all of the rigors of his treatment, and everything else he must have on his mind, Uncle George took the time to perform this small courtesy. A true Rotarian.
The District Conference:
For those of you who have not been to one, and for those of you for whom it has been a long time, I urge you to attend this year's District Conference. Its a chance to meet old friends and hear from our District leaders. As IPP Bruce had reported after he attended last year's conference, it can truly be one of the best experiences in your Rotary year. You will note that those of us who attended recent conferences have been the first to sign up to go again this year, and this is not done entirely out of a sense of duty.
Of course as President, I would like to see a strong turnout from our Club, but the real reason for going is not for the club, but for your own enjoyment. Please give it some consideration. Registration Forms are available here. ( An additional highlight: After the opening address, your President will be recognized as Hong Kong's first Level 6 donor to the Rotary Foundation )
LAST MEETING:
We had a good meeting last week, though attendance was a bit light. Rtn. Chris asked the members to recall the predictions made by Fung Shui Master Lo during his visit to our Club in December.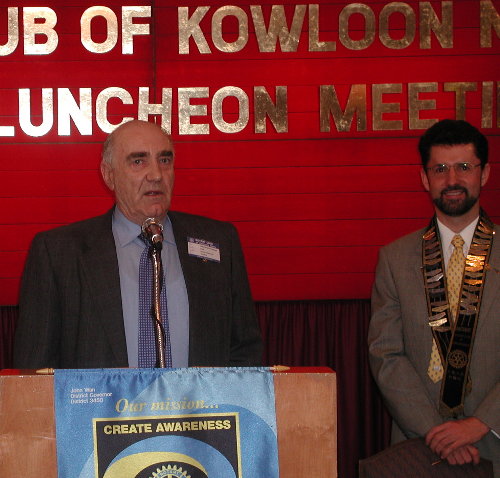 Even skeptics such as myself had to admit that quite a number of Master Lo's predictions have come to pass in the last few months.
Rotary Information:
Rotarians be warned. I am apt to announce a snap quiz without notice at any meeting. Here again is Past President Peter's Rotary Quiz. Please study these questions and answers to avoid embarrassment and costly fines.
Last Friday's Speaker: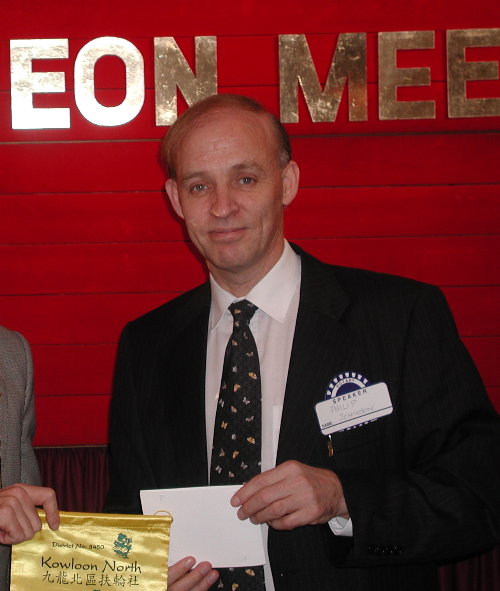 Professor Philip Johnson
We enjoyed a very informative and clearly presented talk by our distinguished and learned speaker. If it is true that it takes a real expert to explain a complicated subject simply, then Professor Johnson has truly mastered his chosen field. We all came away with a very clear understanding of the scope of the cancer problem, and what we should do to protect our own health.
Again the meeting ran long, but all agreed that the highly interesting presentation made it well worth while.
Club Service:
A note of thanks is due to our Programme Director David for arranging such an outstanding lineup of speakers. Well done David !
The banner design is getting closer, please click here to view the four latest designs. Banners b, c, and d have the Sampan at the bottom and the Rotary wheel at the top. The only difference is slight variations in the color and the font of the Chinese characters. Is everyone happy with the wording? I'll bring some printouts to the meeting tomorrow.
Community Service:
The District Tree Planting Day / Walkathon in Sai Kung is coming up this Sunday. I will be going, and at last count we have 83 from Camp Quality. Buses leave the Kowloon Tong MTR station at 10:30 sharp, and we get back to Kowloon Tong around 1:30. We will be taking the Camp Quality contingent for a meal at a Chinese restaurant at Festival Walk after we get back. I invite any of you to come along for this enjoyable and relaxing outing. Full details are available by clicking here.
This Friday's Speaker:
Tomorrow we have Mr. Alan Chee-chung Lee, Chief Fire Officer at the Hong Kong Fire Services Department, Fire Safety Command. He will be speaking to us on the topic of building fire safety. I believe that this department does a very good job in Hong Kong. The number of fires where there is loss of life seems very low compared to other cities in which I have lived. This is an important talk though, and we all should pay close attention for information that might help us increase the level of safety at our homes and workplaces.
I look forward to seeing you all there.
Yours in Rotary,
President Bill