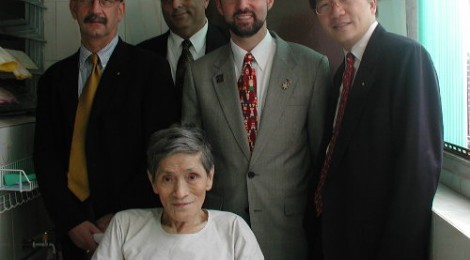 Volume 01 Issue 10
Dear Fellow Rotarians,
I write to you this week from Las Vegas, where I am visiting on business (honestly). I have not needed to do a makeup here this week, as I will not be missing one of our own regular meetings. However, if I had, I could have found a nearby meeting very easily by going to the Rotary International Web Site and clicking on the "Where Clubs Meet" link.
Boys' Night:
This Friday, in addition to our regular luncheon meeting we will be holding a special "Boys' Night" fellowship evening. ( My apologies to Rotarians Jenny and Susan ). Details have already been circulated by email. Please be sure to let PE Ramesh know if you will be attending. It promises to be a memorable (or perhaps unforgettable) evening.
Club Service:
Club Roster: Please click here to see to see the names of your fellow club members who are holding up the completion of the club roster. (My apologies to any of you who have submitted your materials over the past few days)
The New Banner: For those of you who haven't seen it, here it is.
Community Service:
After last Friday's meeting, Rtn. Howard, PE Ramesh, and myself accompanied Community Service Director Brian on an inspection tour of elderly flats in Kwun Tong.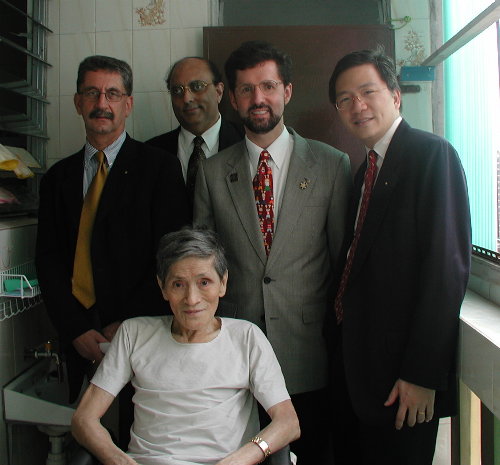 We were pleased to meet three very interesting older gentlemen, and we were reminded of the needs of the older members of our community. Please click here for more photos from this very meaningful outing.
Last Friday's Speaker:
Ms Brenda Wong gave us an entertaining and informative presentation explaining just what the Trailwalker is, and what kind of groups are involved in sponsoring it. She gave us a little of the history of the event and described some of the charitable projects that the money which is raised at Trailwalker supports.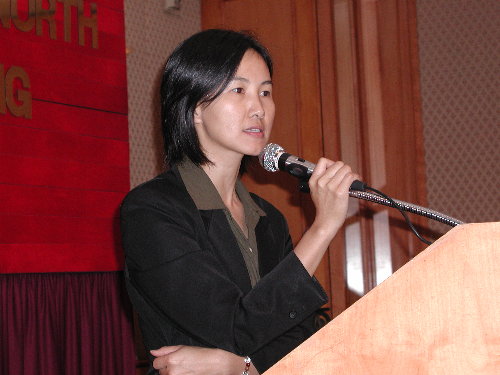 Ms Brenda Wong of OXFAM
Ms Wong is the organizer of this event for OXFAM, and with as many as 900 teams of four competing, the organisational challenges must be substantial. Hong Kong is lucky to have capable persons such as Ms. Wong who have chosen to work in charitable organisations.
This Friday's Speaker:
This week, VP David has arranged for Mr. Stephen Selby, Director of the Intellectual Property Department, to speak to us. He will be talking about "Copyright Protection in Hong Kong". This will no doubt be an interesting presentation, as Mr. Selby must have a challenging job, given the pervasiveness of various forms of entertainment and software piracy in this region.
I look forward to seeing you all there.
Yours in Rotary,
President Bill