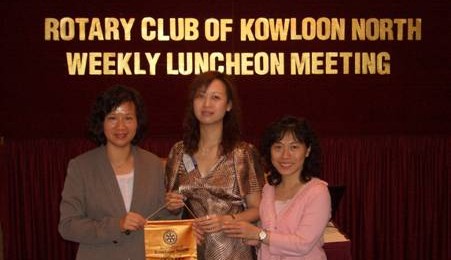 Volume 07 Issue 17
Club Assembly 23th March 2007
(prepared by Rotarian Pauline)
Visiting Rotarians today were Felicity George and Judith Mitchell from Australia. President Maureen exchanged flags with our visiting Rotarians.
President Maureen reported about the board meeting which was held last Monday. She reported that where membership was concerned, we were 1 ahead of last year, and that new blood was needed. Members were encouraged to try to bring in new members.
Our attendance was not very good! In fact only 1 meeting had 60% attendance in the last 3 months.
Reporting about service projects:
Minor renovations for the LAPs in Guangxi had been completed and paid for
Building a dormitory for students of a primary school in Guangxi would be supported. Though we were a bit short of funds, we should be able to raise some in the coming months.
The water tank in Loong Yan Primary School in Duan would be sponsored 10,000 RMB
Screening Special Needs Children would be held on the 21 and 22 of April. Members were encouraged to drop in and see what was going on.
PP Bruce would be organizing a Golf day in April and this would include a Fellowship night.
For the May Fund Raising Event, President Maureen and PP Bruce would go and check out the venue this afternoon.
President Maureen announced that we had a cash flow issue. We are a bit low in finance and members were reminded to pay their dues on time.
President Maureen also announced that our club will be funding the little girl in Duan to have cataract surgery. The support requested amounted to $10,000. PP Tommy offered to contribute $2000 to the operation.
Meeting closed about 2 pm.
Report of Meeting, 30th March 2007
(prepared by Rotarian Pauline)
President Maureen was away, so PE Angela hosted the meeting today. We had one visiting Rotarian, James Wear from USA. We also had one visitor, Dr Anthony Lee who is a surgeon, and one of PE Angela's friends.
The speakers for today were Alky and Babe. They talked about TB. Over 2 million people died of TB every year. Half of new cases occurred in 6 Asian countries ¾ Bangladesh, China, India, Indonesia, Pakistan and the Philippines. There is a concern as there are many domestic helpers from the Philippines and Indonesia.
The number of TB cases in HK dropped from 13886 in 1951 to 5856 in 2006. However, the number is still high compared to European countries.
TB is a disease of poverty, and if one infected person is not treated properly, s/he will infect 10-15 person per year. For more information, members can browse the website: www.ha.org.hk/org.antitb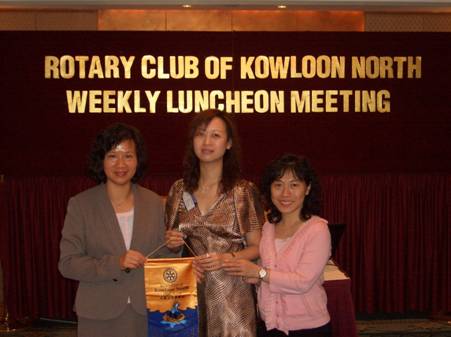 PE Angela with Babe (left) and Alky (right) of The Hong Kong Tuberculosis, Chest and Heart Diseases Association
PP Steve thanked the speaker for their informative talk and for their contribution to society.
The box collection today was $600.
Report of Meeting, 13th April 2007
(prepared by Rotarian Pauline)
This meeting, President Maureen and PE Angela were not able to come, so PP Ian presided today's meeting.
We had a visiting Rotarian Rainer Jungjohann from Germany.
We had no speaker today, and since all members, apart from Rotarian Pauline, were male, there was a very lively discussion on Golf, Prestigious Clubs and Investment. It was a very relaxed and enjoyable meeting.
Towards the end of the meeting, a few announcements regarding OUR CLUB activities were made.
We were informed that the budget for the water tank fell short, but the Duan officials will try to top up the amount from elsewhere.
Meng Liang (the little girl with cataract) had been admitted into the hospital in Nanning. One eye had been operated yesterday, and the doctors are waiting to see if there is any complication. If not, the other eye will be operated on within the next few days. Winnie and Jimmy from Habitat will keep us informed of the progress.
President Anita Strangl (San Francisco Club) would be meeting Rotarian Pauline this afternoon about recruitment of non-medical volunteers for their next trip to China for Alliance for SMILES.
The box collection today was $800.
Until next meeting…….